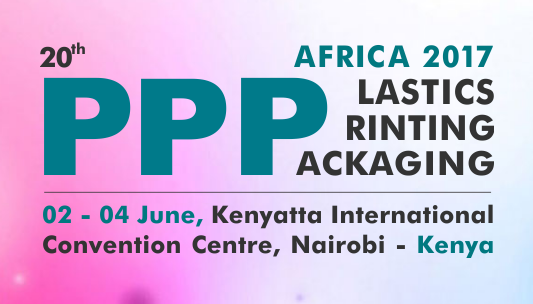 Exhibitors from over 30 countries participating at Kenya's Biggest Int'l. Trade Exhibition.
PPPEXPO Africa is the only dedicated industry specific international trade show for Plastics, Printing & Packaging Industry in the entire East African region that promises to be an excellent platform to forge business alliances, showcase technological and interact directly with the African traders from the East, Central & South African region.
Africa is one of the fastest growing markets in the world and PPPEXPO Africa will attract thousands of buyers and decision makers from all levels and sectors of Plastics, Printing & Packaging Industry and aims to promote a direct business link between buyers and sellers. Kenya, the gateway to the East African Market is fast emerging as a distribution & supply hub to the entire plastics, printing & packaging industry in the East African region.
Besides its own market of about 33 million customers, Kenya is the only distributor of goods to other East African countries such as Tanzania, Uganda, Ethiopia, Malawi, Nigeria, South Africa and several others situated on the east coast of Africa, estimated to be around 380 million customers. Having the largest sea port in Mombasa, the country is the largest source of incoming products by sea, to the East African region, from the Middle East, the Indian Sub-continent, Europe & Far East.

VISITOR PROFILE
Policy and Decision Makers
Foreign Companies Seeking Joint Ventures
Foreign & Local Investors
Packaging & Processing Professionals
Local & Foreign Industrialists
Consul Generals, Foreign Missions & Business Magnates
Top Executives & Professionals from Local Industries
Beverage Manufacturers & Bottlers
Designers, Dealers, Consultants, Distributors, Engineers, Material Handlers, Production Managers
Printers, Equipment & Material Buyers
Marketing & Brand Managers
Retailers, Logistic Management
New Product Development Managers & Printing/Packaging Specialists.
Kenya is located in Eastern Africa, bordering the Indian Ocean, between Tanzania and Somalia. It covers an area about twice the size of Nevada. Kenya has a tropical climate along the coast, turning increasingly arid farther inland. Low plains rise into central highlands bisected by the Great Rift Valley, with a fertile plateau in the west. Natural resources include gold, limestone, soda ash, salt barites, fluorspar, garnets, wildlife, hydropower, and rubies.
PEOPLE
Over 31 million people live in Kenya. Both English and Swahili are official languages of Kenya, while numerous indigenous languages are spoken as well. Ethnically, Kenya is comprised primarily of Africans (99%) including the following groups: Kikuyu (22%) Luhya (14%) Luo (13%) Kalenjin (12%) and Kamba (11%). The country's religious groups include Protestant (38%) Roman Catholic (28%) indigenous beliefs (8%) and others.