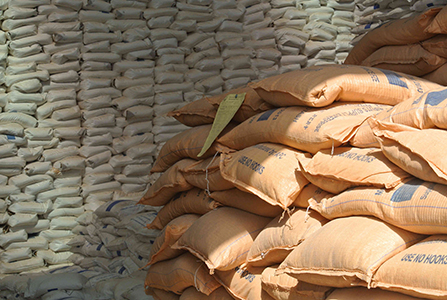 Photo by:Ethiopia Agricultural Growth Program
The Ethiopian Agricultural Business Corporation said it faces obstacles in modernizing the agricultural sector in terms of quality and supply of fertilizers.

According to Kefyalew Birhanu, Corporate Chief Executive Officer, the Corporation comprises five enterprises which are working on agricultural productivity without proper coordination.

Briefing to the Public Enterprises and Agricultural Affairs standing committee of the House of Peoples Representatives (HPR), Kefyalew said that though the coordination established among Enterprises enable businesses to flourish utilizing skilled manpower and improved technology, there is still improper coordination to find out solutions to the problems resulted from the consumption of the fertilizers and its supply due to the scheduled time.

As to the Corporate Chief Executive Officer, the Corporation failed to supply fertilizers to the farmers on the right time with many effects like the transportation problem, daily laborers, and even lack of revolving fund to purchase enough amount of Fertilizers.

He also stressed that while consumption has in fact increasing sharply because the corporation was trying to achieve its strategic plan for the country to be food self-reliant.

He further added that while the recent introduction of new types of fertilizers such as NPS, Potash, Zinc, Boru and micro-nutrients have shown great potential in improving overall soil fertility, the fertilizer value chain is still constrained by a range of challenges.

In the mean time Prof. Fasil Kebede, Advisor to the Minister of Agriculture and Natural Resources said on his part that the significant volumes of fertilizers was carried over every year and the enlightenment of demand estimation mechanisms are limited.

Prof Fasil urged that meanwhile quality assurance systems do not exist widely, and storage capacity is very low and as such, addressing critical challenges in the fertilizer value chain remains strategically important for the country.

During the occasion Almaz Mesele, Public Enterprises and Agricultural Affairs Standing Committee Chairperson, highlighted that the Ethiopian Agricultural Business Corporation should work jointly with the other concerned bodies to improve farmers' access to quality fertilizers, including blended fertilizers, through multiple channels to achieve a sustainable increase in the production and productivity effectively up to the grassroots level.

Almaz noted that the program should aim at transforming fertilizer marketing in Ethiopia through increasing domestic fertilizer production capacity, improving multi- channel distribution, and enhancing institutional capacities for quality assurance.

Meanwhile a representative from the Agricultural Transformation Agency /ATA/ stated that such a program can increase local production and availability to farmers of custom-made fertilizers based on specific local needs.

As to him, this requires the creation of new infrastructure for quality testing to check whether fertilizers are made and distributed according to pr-set quality standards.

He added that to attract private investment and introduce innovative technologies in the blending industry, focus will take place on the enabling environment for engaging multiple stakeholders.

Enhancing this enabling environment requires improving the legal, infrastructural and financial conditions that motivate investors to operate in the industry, he accentuated.

He finally stressed that maintaining the production of custom-made fertilizers is not sufficient by itself rather improving the supply system that enables fabricated fertilizers to reach end users will also require due attention.