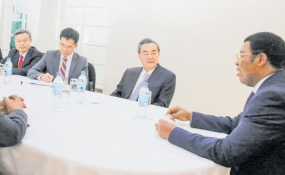 Photo: PMO/The Citizen
By Deogratius Kamagi
Dar es Salaam — China has pledged more development support for Tanzania to enable the country meet targets set in the 2016/20 National Development Plan and achieve the ambition to build the industrial economy.
The industrial sector of Tanzania is comprised of manufacturing (53%), processing (43%), and assembling industries (4%). The manufacturing sector in Tanzania consists mainly of food processing (24%), textiles and clothing (10%), chemicals (8.5%), and others.

The Chinese minister of Foreign Affairs, Mr Wang Yi, issued the promise during official talks with his Tanzanian counterpart, Dr Augustine Mahiga in the city. Mr Yi had paid a day-long official visit.
He said, China was ready to assist Tanzania in its development projects particularly roads, railway and the construction of ports in Bagamoyo and Zanzibar.
"The cooperation will continue to go deeper and extensively, and China will always stand shoulder to shoulder in the making of Tanzania development and for the wellbeing of it's people," he said.
This was among the issues which dominated the one-hour discussions between the two delegations at the Mwalimu Julius Nyerere Convention Centre in Dar es Salaam. "We also promise to pump industrial investment as a way to support the government mission of building an industrial economy,"he said.
Moreover, he assured continued support for Tanzania in the latter's bid to improve industries and infrastructure.
For his part, Dr Mahiga welcomed the support, saying that the government was ready for the move, as part of efforts to improve lives of of the people. "We encourage many Chinese companies to invest in Tanzania and again, they have shown interest to build us new structures in Dodoma," he said.
Tanzania aims to become a semi-industrialized country by 2025, for which the contribution of manufacturing to the national economy must reach a minimum of 40% of the GDP. To achieve this, Tanzania aims to transform from being dominated by natural resource exploitation activities and extractive industries (agriculture, tourism and mining) to become an economy with a broad and diverse base of manufacturing, processing and packaging industries that will lead both the productive as well as the export trade sector. Foreign Direct Investments (FDIs) are expected to provide the capital for the desired industrial development.

Tanzania accounts for the 16.3% of China's FDI to Africa with USD 4 billion in the year 2014, an increase of 100% from the total Chinese FDI recorded in the country at the end of 2013 according to the Chinese Embassy to Tanzania. According to Dr Mahiga, China is committed to pose comprehensive reforms at Tazara to commercialise the railway for the purpose of adding it's contributions to the economy.