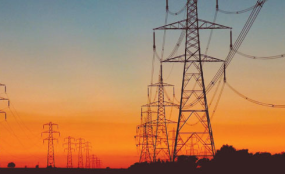 Photo: East African
By Kennedy Senelwa
Kenya is injecting thermal electricity into the national grid to compensate for hydro generation -- which has affected by low water levels due to poor rainfall last year.
The government has ruled out loadshedding, but the use of electricity generated from plants that use expensive diesel and fuel oil sets the stage for higher bills. In the late 1990s, Kenya started diversifying power sources to reduce dependence on hydroelectricity.
The Kenya Association of Manufacturers said prolonged use of thermal power and decline of hydro output has the potential of disrupting economic growth. Hydro now accounts for 37.1 per cent of electricity being used.
The Ministry of Energy said the fuel cost levy will rise as the current drought has affected the output of hydro plants like the Seven Forks Dam on Tana River, Sondu-Miriu in western Kenya, and Turkwel Gorge in the northwestern part of the country.
"We have scaled down generating electricity from hydro plants. Before, they accounted for 39 per cent of the power generated, but this has dropped to 37.1 per cent," said Energy Cabinet Secretary Charles Keter.
Cost of electricity up
Consumers are expected to pay more for power before the onset of the long rains expected between March and May. The fuel levy cost will increase this month to Ksh3.52 ($0.035) per kilowatt hour (kWh) from Ksh2.85 ($0.028) in December.
In November it was Ksh2.34 ($0.023).
Kenya has an installed generation capacity of 2,341MW. Domestic consumers using up to 50kwh, paying Ksh2.50 ($0.02) per unit, will not be subject to the extra fuel cost levy. Households using 51 to 1,500 kWh will pay Ksh11.62 ($ 0.11) per unit.
Companies that are paid the fuel cost levy include Kenya Electricity Generating Company (KenGen), Rabai Power Ltd, Iberafrica Power, Thika Power Ltd, Triumph Power Generating Co. Ltd, Tsavo Power Company Ltd and Gulf Power Ltd. The levy is to offset the cost of diesel and fuel oil used for generation.
As of January 11, the water level of Masinga dam, which is the main reservoir of Seven Forks hydro stations, was 1,048.31 metres above sea level and Sondu Miriu 1,402 metres. Minimum levels for the two dams to generate electricity is 1,037 and 1,400 metres above sea level respectively.
"Sondu-Miriu will be more challenged if the current drought persists as it relies on runoff from the Sondu-Miriu river as opposed to a dam. The hydro plant has to shut down if the water falls below minimum levels," industry sources said.
Kenya's cheapest source of power is hydro at Ksh3 ($0.03) per unit, but it is affected by erratic weather. This is followed by geothermal power at Ksh 7 ($0.07) and thermal at Ksh20 (0.19). The Energy Regulatory Commission (ERC) adjusts the fuel levy monthly with forex levy attributable to the dollar exchange rate.
Seven Forks complex
The Seven Forks hydro station, Sondu-Miriu plant and Turkwel Gorge station belong to the Nairobi Securities Exchange-listed KenGen, which is 70 per cent owned by government and generates 80 per cent of the power in the country.
The Seven Forks complex comprises the Masinga plant, which is uppermost on Tana River, the Kamburu power station, Gitaru hydro, Kindaruma plant and Kiambere power station. Kenya's hydro plants generate about 820MW.
Masinga power station will be shut down if water declines below operating level. Water at Masinga reservoir flows downstream for generation of power at Kamburu, Gitaru, Kindaruma and Kiambere hydro plants.
Mr Keter said that the Turkwel Gorge, Masinga and Sondu-Miriu hydro stations are still injecting electricity into the national grid despite the decline in water levels.
"We have enough supply from geothermal and diesel driven power sources to cover what we may lose from the hydropower stations affected by the ongoing dry weather and poor rains experienced late last year," he said.
Installed power capacity
Kenya's installed electricity capacity rose from 1,765 Megawatts in 2013 to the current 2,341MW after completion of power generation projects by KenGen and private investors.
KenGen, with an installed capacity of 1,630MW, commands 68 per cent of the country's market share. KenGen has installed capacity of 47 per cent geothermal, 39 per cent hydro, 1 per cent wind and 13 per cent thermal. KenGen's planned expansion programme of 721MW from 2016 to 2020 is estimated to cost over $1.3 billion.
According to the Ministry of Energy, household access rates to electricity in Kenya rose from 27 per cent in 2013 to 60 per cent in 2016, and 5.3 million customers are currently connected to the national grid.