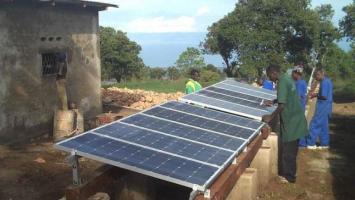 Photo by:newbusinessethiopia.com
The European Union (EU) Bank is set to build 1000 new solar-powered mobile phone base stations to help Nearly 4 million people in rural Africa connected to telecommunications for the first time.
The project is an initiative by Africa Mobile Networks. The roll out of mobile phone coverage in remote rural areas of the Democratic Republic of Congo and Cameroon was announced today at European Development Days in Brussels.
The project is being backed by a EUR 24 million long-term investment from the EIB, the EU bank. Support for this project comes from the Impact Financing Envelope, a special window under the ACP Investment Facility (African Caribbean Pacific) managed by the EIB and intended for initiatives where a high financial risk is rewarded by a higher impact for local populations. The Investment Facility, which is a revolving fund, is funded from the resources of the EU Member States.
The project marks a significant step in improving the financial inclusion of people living in vulnerable and remote communities, with a particular focus on women, health and banking services. More than two thirds of the new mobile phone coverage will be located in North and South Kivu, conflict-torn areas of the eastern Democratic Republic of Congo, where improved communications will increase security for remote and vulnerable villages there.
"Mobile phone usage has radically increased across African cities over the last decade. However, more than two thirds of Africa's poorest and most vulnerable people remain digitally disconnected and excluded from telecom coverage with the economic and social opportunities it provides," said Pim van Ballekom, Vice-President of European Investment Bank.
"This new scheme will expand access to commerce and crucial services that transform daily life in Cameroon and the Democratic Republic of Congo, including supporting the economic empowerment of women and access to health services online," he said.
First-time access to telecommunications provided by the new scheme is expected to strengthen access to financial services, including money transfers and salary payments. It will help farmers to get more accurate prices for agricultural produce and increase information concerning health and education in rural areas. People will be able to access information about job opportunities, and entrepreneurs will be able to start new businesses as they will be able to organize and manage supply chains by telephone.
"This new loan means building is now starting on more than 1000 new mobile base stations. It will accelerate Africa Mobile Networks' mission to connect the unconnected in sub-Saharan Africa and beyond. And it means the impact we can have on people's lives will increase substantially," said Michael Darcy, CEO of Africa Mobile Networks.
"We are delighted to work with the European Investment Bank to reduce the number of people still without access to basic voice and data service communications. Our pilot projects are demonstrating already that this can make a real difference to people's lives. Take the Democratic Republic of Congo, where 750 of the 1000 towers will be built. Access to mobile data means communities that have been dangerously cut off can now access security information and well as basic services like health and education," the CEO said.
Over the last five years the European Investment Bank has provided more than EUR 6 billion for telecommunication investment around the world.
EIB is active in around 130 countries around the world. As a key player in the world of development finance, the EIB provides long-term financing for sound, sustainable investment projects in support of EU policy goals in Europe and beyond. The EIB is the largest multilateral lender and borrower in the world and is owned by the EU's 28 member states.
The EIB invests in four priority areas in support of growth and job creation: innovation and skills; access to finance; climate action and environment; and strategic infrastructure. The EIB is the world's largest financier of climate-related projects. Last year around 27% of all lending went towards climate action. The Bank is committed to raising the proportion of climate investment to 35% for developing countries by 2020, and placing a greater emphasis on helping regions in the frontline of climate change to adapt.
The European Commission's Digital4Development strategy is intended to mainstream digital technologies into EU development policy and to contribute to the achievement of the Sustainable Development Goals.