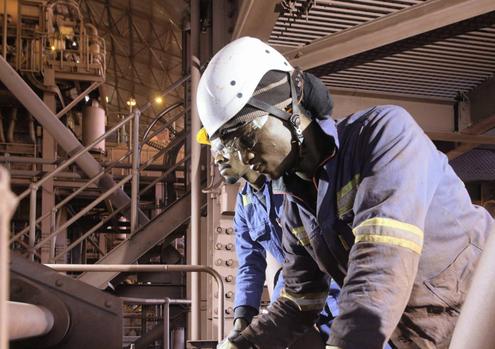 Image from http://www.iol.co.za
Anglo American, the JSE-listed global diversified
mining
giant, said yesterday that production had increased 8percent in the second quarter on the back of significant performances from its De Beers and Kumba iron ore units.The production surge resulted in Anglo leaving its production guidance for the year unchanged and also increasing the target at Kumba to between 41million tons and 43million tons on the back of strong performance at the Sishen Mine in the Northern Cape.
Anglo said volumes at Sishen were 7.9million tons and 38percent higher than the previous comparable period after some improvement in mining productivity, driven by fleet efficiencies and higher plant yields.
Sishen implemented a revised mine plan last year in a bid to cut costs following the sharp decline in iron ore prices that has resulted in lower volumes and a 31percent reduction of the workforce.
Kumba's waste removal also increased to 43million tons compared to 31million tons in the second quarter of last year.
Production at the Kolomela Mine was up 11percent to 3.5million tons, underpinned by productivity improvements. Waste removal increased by 22percent to 15 million tons.
In terms of diamond output,
South African
production increased by 71percent to 1.4million carats, largely as a result of higher grades at the Venetia Mine in Limpopo.
It said rough diamond production increased by 36percent to 8.7million carats in line with the higher production forecast for this year, on the back of stable trading conditions and the contribution from the ramp-up of Gahcho Kué mine in Canada.
In Botswana production was 14percent higher to 5.9million carats. Orapa's production increased by 44percent driven by the ramp-up of Plant 1, which was previously on partial care and maintenance in response to trading conditions in late 2015.
Improvements
Anglo chief executive Mark Cutifani said the company had delivered another strong production quarter across most of our businesses.
"Through the improvements we have made to our portfolio and the efficiencies we are driving, we continue to unlock the potential of our world class assets We have increased the full-year production guidance for Kumba and are on track to deliver full-year guidance across the rest of our products," said Cutifani.
Percy Takunda, an analyst at Momentum Securities said Anglo's production results were not surprising and this was because the company had benefited from the firming in commodity prices. "If you compare the first half of 2016 and the first half 2017 commodity prices improved significantly," he said.
There had been a 26percent increase in copper prices, while hard coking was 100percent higher in the first half of last year compared with the first half of this year.
Platinum's Mogalakwena mine production increased by 15percent due to higher grades and increased throughput. In terms of copper, production from Los Bronces in Chile was 4percent higher to 79000 tons.