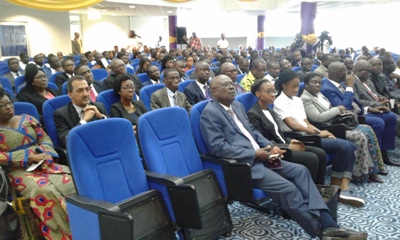 Photo by:ghana.gov.gh
Loyalty Insurance Company Limited, a non-life insurer, has been urged to operate within the confines of the law and adopt best corporate governance practices.

The Insurance Commissioner, Mr. Justice Yaw Ofori, who gave the advice, in a key note address at the launch of Loyalty Insurance Company Limited in Accra, yesterday, also urged all insurance companies to comply with the Corporate Governance and Risk Management Framework issued by the National Insurance Commission (NIC) in 2015.

Compliance with the provisions of the Code, Mr Ofori said, would ensure the improved operational efficiency of the insurance industry and warned that NIC would not hesitate to apply the necessary sanctions in the event of a breach by any insurance company.

He condemned unethical practices by certain insurance companies and urged all stakeholders in the insurance industry to work hard to reverse the low confidence of Ghanaians in the industry, adding that the penetration rate of insurance in Ghana could only be improved when policy holders and claimants received prompt and adequate payment of claims.

He also urged insurers to ensure compliance with the Claims Management Guidelines issued by NIC while reminding the Board of Directors, shareholders and Directors to be aware of their responsibilities, such as their policy directions, duties of care and diligence, utmost good faith and conflict situations.

Mr Ofori advised shareholders not to be involved in policy directions and the operational matters of the companies.

Welcoming participants to the launch, Mr Frank Yeboah, Managing Director, Loyalty Insurance Company Limited, gave the assurance that the company would be guided by loyalty, integrity, professionalism, speed, agility, customer service and corporate social responsibility, bearing in mind that each contact with a client was an opportunity to improve public confidence and trust in the Loyalty Insurance Company Limited and in the insurance industry as a whole.

Mr Yeboah pledged the company's commitment to creating and maintaining a good working relationship with all of its service partners, including other insurance companies, reinsurance companies and insurance broking companies--all in an effort to provide superior services for its clients.

He said Loyalty Insurance Company Limited would remain dedicated to effective collaboration, networking and strategic partnership in its approach to doing business, adding that he looked forward to working with all players on the market for the mutual benefit of all and for the advancement of the insurance industry as whole.

The company, he said, enjoyed financial strength and capacity of its parent companies and was well-managed, highly-capitalized and well-resourced to fulfill its mandate and promise to its clients and other stakeholders.

Mr Yeboah said the company had well-trained and highly qualified professionals with in-depth knowledge and wealth of experience in the insurance industry, backed by a forward-looking Information Technology infrastructure.

Loyalty Insurance Company Limited was incorporated and registered under the Companies Act, 1963 (Act 179) on March 31, 2016.

The company, owned by FRIMPS Oil Company and the MIC Group was licensed by NIC under the Insurance Act, 2006 (Act 724) on February 20, 2017.