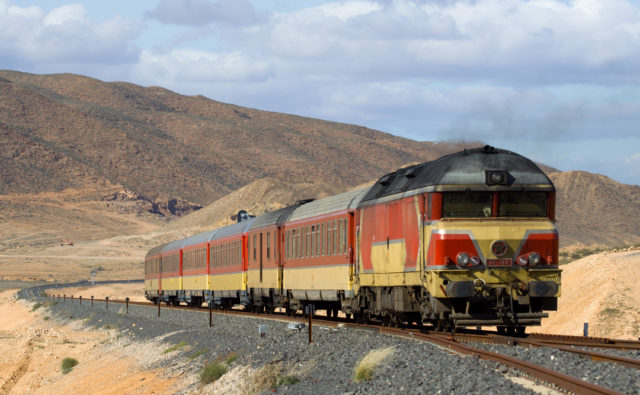 Image from www.moroccoworldnews.com
For the the manufacturer and renovator of railway equipment, developing the sector in terms of research, innovation, and added value is a must. After launching the Moroccan Railway Industry Group (GIFER) back in 2016 as the first Moroccan consortium to federate, represent, and defend the interests of railway companies in Morocco, the SCIF is now bringing together around 30 other companies to introduce motorization into the Moroccan rail industry.

"This project is the culmination of the SCIF's development strategy, which will ultimately enable it to become a real integrator of the construction of railway rolling stock," said Hassan Rebouhate, CEO of SCIF and president of GIFER, in an interview with economic weekly La Vie Eco.

The Made in Morocco Train is not the SCIF's first ambitious project. The company has a long record when it comes to innovative projects, mainly regarding the local manufacture of towed cars.

The SCIF previously developed 60 passenger cars for the ONCF, already in circulation for main lines, and has also carried out export operations in Tunisia (200 cars for transporting phosphates), Mauritania, Gabon, and Poland.

For Rebouhate, this project couldn't have come at a better time. "Today, towed passenger cars and all types of freight wagons for the transport of phosphate, coal, and chemicals are manufactured in Morocco with industrial integration rates of up to 75 percent."

"We are now in a prospecting phase for the industrial integration of traction and we expect to be able to produce locomotives in Morocco in the next three years in partnership with our international partners," explained Rebouhate.

The SCIF counts on the support of the ONCF, who holds 20 percent of shares in the industrial company. The CEO explained that the SCIF is always ONCF's first choice when it comes to local manufacturing. "ONCF trusts us, supports us and certifies our products," Rebouhate said.

Yet, Rebouhate expressed disappointment that city councils have not valued their national manufacturing companies when it comes to the extension of the tram lines in Casablanca and the future ones in Rabat.

"SCIF has asked to make trams in Morocco. Unfortunately, Casablanca has issued a call for tenders without any requirement of location in Morocco [for the bidding companies]. One should not be mistaken, all the international manufacturers first took advantage of the public offer of their respective countries. At this level, there is a need for coherence between local and national strategies," he said.

Pending the support of cities for its railway industry, the CEO said the SCIF is exploring ways of partnering with different companies to innovate locally-manufactured railway components and contribute to the reduction of imports of railway equipment.