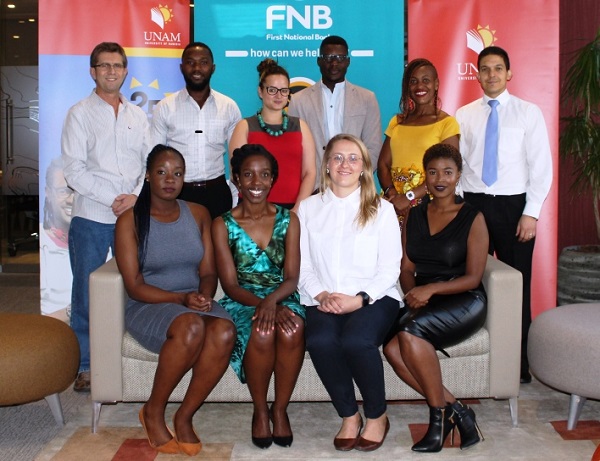 Photo by:Namibia Daily News
Windhoek — FNB Namibia is supporting the upcoming TEDx Unam with an amount of N$50,000. The event will take place on Saturday, September 30 at the University of Namibia Health Sciences Campus (School of Medicine/Pharmacy).

The theme and title for this year is 'Solve For Y' and has been derived from the equation y = mx+c.

Michelle van Wyk, treasurer at FNB Namibia, expressed her delight with the support for the upcoming event.

"In order for us to create change and to innovate we need to ask why? We need to solve for the why?, the Y, and therefore we are excited to partner with TEDx University of Namibia in creating a space for people to share their thinking in solving for Y, to also inspire others to think, to create change, to innovate.

"TEDx events are independently organised, creating a space for ideas worth sharing. Partnering with Unam on enabling the creation and sharing of ideas is key to innovation in our country. We are excited that the youth are taking up the challenge to inspire the Namibian nation."

Student support officer and TEDx Unam committee member, Erastus John, said: "We want to thank FNB for their generous sponsorship. We consider it an ideal partnership for TEDx Unam because FNB is known to value innovation and the spreading of great ideas. We also thank Lithon Project Consultants for their sponsorship of N$10,000. We look forward to a great event and encourage everyone to get their tickets as soon as possible."

The TEDx event presents various speakers including Adriaan Grobler, Hermien Elago and Seno Namwandi, and many more TEDx Unam speaker, Adriaan Grobler, said: "Entrepreneurs see a picture of a better tomorrow and then do it. I want to share how we can turn the ME into WE, and make a significant impact together."

Hermien Elago said: "On the other side of change lies great adventure, freedom, and no longer being imprisoned by our self-imposed shackles. In my talk I want to show how amazing the view is on the other side of change ... if we will just have the courage."

Seno Namwandi said: "The idea generation and creativity process is special, and not common to all people. Ideas are not only special but valuable and the crux of a lot of what we experience in terms of medicine, music, fashion, etc. I want to raise the question of the protection of these ideas. As someone who is not creative in the traditional sense, I thought to be a protector of ideas."