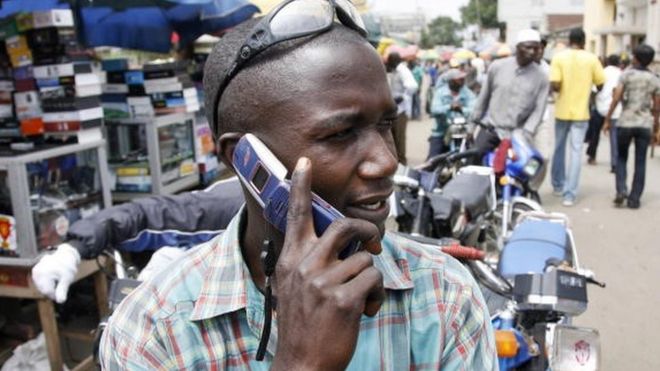 Photo by:BBC
Investments inflows into Nigeria's telecommunications sector soared to N21.4 trillion ($70 billion) in 2017, up from the $68 billion it was last year.

This is just as the federal government has intensified the implementation of new policies that will attract further investments to the sector and the economy in general.

Executive vice chairman of Nigerian Communications Commission (NCC), Prof Umar Danbatta, disclosed this yesterday at the opening of the Nigeria Pavilion at the ongoing ITU Telecom World 2017 in Busan, South Korea organised by the International Telecommunications Union (ITU).

He noted that even though Nigeria has made very modest progress in the sector, there is still room to deepen investments to make broadband pervasive nationwide.

Danbatta said, "We are at 21 per cent now and our target is to hit 30 per cent by 2018, consistent with the National Broadband Plan. In 16 years since the Digital Mobile Licences (DML) were issued, investment in the sector has hit about $70 billion from a mere $50 million in 2001. Most of these investments are Foreign Direct Investments (FDIs).

"In this connection, we are here to tell the ICT community that Nigeria with a population of about 170 million is a preferred investment destination in Africa. With over 150 million active subscribers in the voice segment, over 102 per cent teledensity and a little over 92 million internet connections, Nigeria is indeed a place to invest".

The NCC EVC who spoke to about 150 participants including the secretary general, International Telecommunications Union (ITU), Mr. Houlin Zhao, at the pavilion assured investors of the immense opportunities the Nigerian market can provide.

He noted that all sectors of every national economy have become dependent on the telecommunications sector and failure of the sector would have far reaching negative ramifications to other sectors, hence the need to build capacity in the sector.

According to him, the country's engagement with the global community during the forum also included creating awareness of the investment opportunities in Africa's biggest telecom market, as well as guaranteeing adequate Returns on Investments (RoIs).

He said NCC has put in place measures and guidelines to license wholesale broadband service providers that are consistent with the Open Access Model for broadband deployment.

His words: "Of the seven infrastructure companies (Infracos) earmarked for licensing, only two have so far been licensed for Lagos, which is the commercial hub of Nigeria, and Abuja, including the North Central zone of the country, leaving five more licences for the South West, South East, South South, North East and North West zones of the country.

"The process of licensing of infracos for these five remaining zones is about to be concluded. In our firm resolve to strengthen institutions of corporate governance R-L: Vice President Prof. Yemi Osinbajo; Chief Justice of Nigeria (CJN), Justice Walter Onoghen; Senate Deputy Majority Leader Bala Ibn Na'Allah, and Deputy Governor of Kano state, Prof. Hafiz Abubakar, during the Meeting of the Presidential Enabling Business Environment Council, at the Presidential Villa Abuja yesterday. PHOTO BY REMI AKUNLEYAN. for telcos, woo investors and guarantee returns on their investments, the NCC, in consultation with industry stakeholders introduced a mandatory Code of Corporate Governance as guide to managers and boards of telecommunications companies.

"The code outlines minimum global best practices covering processes, procedures and general corporate behaviour for telecommunications industry players".

Secretary General of ITU, Zhao, who was also present at the Nigerian Investment Forum later in the afternoon said Nigeria has remained very ambitious in the drive towards enthroning a digital ecosystem in the country, saying "such should be supported from all angles".

According to him, the commitment of the Nigerian government to support ICT sector and drive growth through the digital economy is truly impressive.

Zhao said he was happy that Nigeria has continued to use ITU Telecom World as a key platform to showcase its commitment and promote digital vision.

He urged investors to look at the Nigerian market and its population, noting that innovation is gaining traction in the country.

He urged Nigerian SMEs to leverage the strength of the Korean SMEs for growth, adding that there are rooms for partnership that could provide profitability.

In her keynote presentation, Executive Secretary of Nigeria Investment Promotion Commission (NIPC), Yewande Sadiku, said Nigeria will drive Africa's growth and has been projected to be the 14th largest economy in the world by 2050.

She told the audience to learn from MTN which has risen to be the biggest telecom operator by reason of its investment in Nigeria's market.