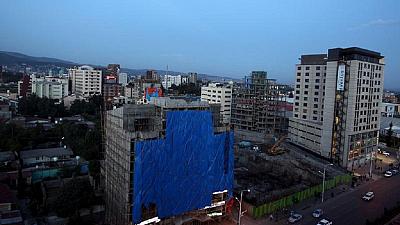 Image from www.africanews.com
The International Monetary Fund (IMF) has praised Ethiopia's economic strides for the year 2016/2017 but has also urged that reforms be undertaken to improve the business climate.

In a release issued after its staff visited the East African economic powerhouse, the global lender also lauded the resilience of the Ethiopian economy despite fall in global prices for key exports and what it said was a 're-emergence' from drought.

The IMF team headed by Julio Escolano visited Addis Ababa between September 13 to 26 this year. During their work, they met with relevant authorities within the financial sector among others National Bank of Ethiopia Governor Teklewold Atnafu and Minister of Finance and Economic Cooperation Abraham Tekeste.

"The current positive investor sentiment towards Ethiopia could be enhanced by reforms to improve the business climate. A more flexible exchange rate would help competitiveness. Improving economic statistics would support policy making and investor confidence," leader of delegation said.

Other high points the IMF delegation raised included growth in the country's Gross Domestic Product (GDP), prudent budget execution and the narrowing of current account deficit and debt accumulation.

The Ethiopian authorities were also lauded in the areas of its drive towards implementation of pro-poor policies, efforts at mobilizing more internal revenue and financial inclusion measures. "The staff team welcomes the progress in financial development and inclusion, as evidenced by the significant increase in the number of bank branches and deposits," the IMF stressed.

They, however, pointed out some areas that needed attention despite the successes chalked. "In the short term, however, the current account deficit remains high, and indebtedness and associated risks have increased. Thus, until past investments in infrastructure and logistics pay off and exports take off, macroeconomic and financial policies should aim at reducing external imbalances and liabilities."

"To achieve this rebalancing, the appropriately tight budgetary stance announced by the government should be combined with additional restraint in undertaking public investment projects, particularly those with a high borrowing component," Mission leader stressed.

The IMF team later met with Prime Minister, Hailemariam Desalegn to present key findings and recommendations. The Executive Board of IMF is expected to discuss the report in November this year.