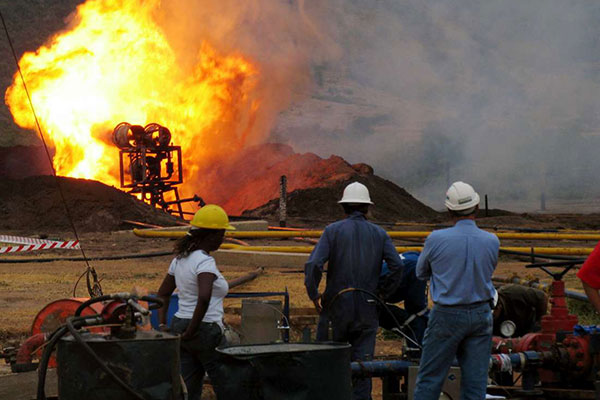 Image from Internet
Uganda has awarded Oranto Petroleum Limited (OPL) from Nigeria two licenses for petroleum exploration, development and production for the Ngassa area.

Energy minister Irene Muloni told reporters in Kampala yesterday that the licenses cover the Ngassa Shallow and Ngassa Deeper areas under Lake Albert.

"Oranto will pay royalty based on the gross total daily production in barrels of oil. The rate of royalty [will vary] from 5.5 per cent to 18 per cent," Muloni said.

The latest award marks the end of the country's first competitive licensing round for the oil and gas sector after another license was granted to the Australian firm Armour Energy Limited to explore, develop and produce oil in the Kanywataba block in Ntoroko district last month.

OPL operates as a subsidiary of Atlas Oranto in Nigeria. Prince Arthur Eze, the Oranto group chairman, said they had been attracted to Uganda because of its stability.

The Ngassa block, according to ministry of Energy and Mineral Development, was initially part of the EA2 which is licensed to Tullow Uganda. The ministry says the area is covered with 2D and 3D seismic data acquired in 2003 and 2008.

"Since the structure lies entirely under the lake, two deviated wells - Ngassa 1 and Ngassa 2 - were drilled on land at the periphery of the main structure in 2007 and 2009 respectively in order to access reservoirs. Both gas and oil were encountered by the two wells," according to a statement from the Energy ministry.

It adds: "a larger part of the structure still remains untested, hence the need to relicense it."Low global oil prices mean that government has had to give in to more demands to get investors on the table.

"The sustained low oil prices have affected the process of the licensing round, leading to protracted negotiations, which took almost a year," Muloni said of hydrocarbons prices now hovering at $55 per barrel.

She said the two petroleum exploration licenses to Oranto cover an area of 410 square kilometres. Each license is for four years of exploration, split into two periods apiece.

Oranto has paid $800,000 as signature bonus and $8,200 annual acreage rental fees for each of the contract areas.

The firm has also paid $100,000 for research and training of the first period of exploration. All the monies were paid into the petroleum fund, mandated to hold all the money from the oil and gas sector.

The company has also deposited a performance bank guarantee of $2.4m for the two Production Sharing Agreements (PSAs). Each PSA was valued at $1.2m, Muloni said.

The ministry of Energy said Oranto is expected to acquire more seismic data, construct a drilling facility anddrill at least one well on the Lake Albert at a minimum expenditure of $29m.

Uganda has confirmed 6.5 billion barrels of oil with at least 1.5 billion barrels commercially viable. Oranto will have the cost recovery rate of 65 per cent.