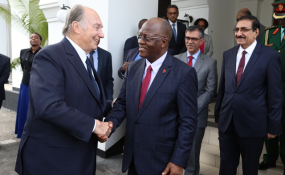 Photo by:allafrica.com
Dar es Salaam — As the Aga Khan celebrates 60 years of leadership and his Diamond Jubilee, more than 100,000
Tanzanian
famers in Mtwara and Lindi regions have been beneficiaries through the Aga Khan Foundation (AKF) since 2009.
Through the AKF Coastal Rural Support Programme, farmers have improved their productivity through technical innovation in rice and sesame seed yields.
The AKF is one of the agencies of the Aga Khan Development Network that seeks to improve the quality of life of the citizens in the countries they operate in.
AKF Chief Executive Officer Abid Malik said on Tuesday October 10, when speaking to The Citizen that through support from the AKF farmers had improved their incomes, pay schools and open small businesses.
"The AKF works in partnership with government agencies by bringing together the required human, financial and technical resources needed to strengthen institutions and systems and influence key stakeholders. AKF has built trust with local government, communities, and private sector, which is essential for the Foundation to maximize its reach," he said.
He noted that over time, these regions were seeing an increase in output, income, savings, food security and growth of small agri-businesses by local entrepreneurs.
In 2014 more than 60 per cent of households were classified as food secure compared to 27 per cent in 2010 in programme areas. More than 200 micro, small and medium agri-business enterprises are being supported by the AKF to grow their businesses.
Many farmers in Tanzania struggle with access to information to help improve farming.
He said AKF had increased demand for seed, fertilisers, appropriate pesticides and environmentally sustainable technologies (pedal pumps, drip irrigation and greenhouses) by facilitating demonstration plots and exchange visits, while teaching good agricultural practices among farmers.
There is great unmet domestic demand for many agricultural commodities and
products
that could be produced in Tanzania.
This supply and demand gap offers potential for transformation of agriculture into a more sustainable, inclusive, efficient and market-responsive sector with a larger share in the GDP if smallholder farmers, particularly women farmers, are better integrated into domestic and export markets both as consumers of agricultural inputs (such as seeds and fertilisers) and sellers of their agricultural produce.
Such transformation will have an impact on poverty reduction, while also fuelling economic growth.
"The AKF through its work with smallholder farmers and other value chain actors is supporting this transformation," said Mr Malik.
As a result, farmers have increased productivity and income. Under an entrepreneurship programme, the AFK has trained 257 existing and potential village based agents, of which 177 are now operating trading agro-input supply businesses.
To date the AKF has added considerable value to the lives of small-holder farmers. There is hope for the AKF to continue providing such support across Tanzania.
It is with this hope that His Highness the Aga Khan's visit to Tanzania is expected to continue fostering and bolstering ties between the AKDN agencies and the work they do in the country.