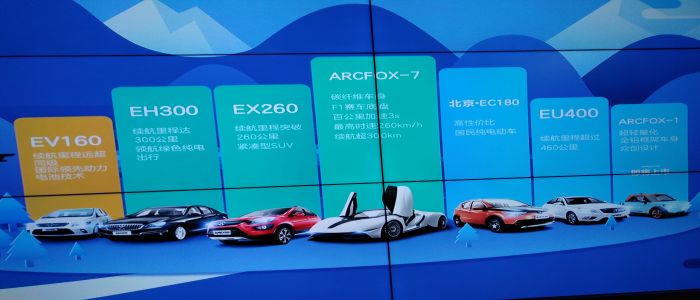 Photo by:Cameroon-Tribune
BAIC BJEV hopes to produce 50,000 vehicles a year from its new South African plant.

The Beijing Automotive Industry Corporation-Beijing Electric Vehicle Company, BAIC BJEV is one of China's major manufacturers of New Energy Vehicles, NEVS or electric vehicles. Some 42 African, South East Asian and South Asian journalists recently visited the company's BluePark headquarters on the outskirts of the Chinese capital, Beijing. The visit was organised by the Beijing Broadcasting Corporation.

A joint State/private venture, company looks forward to listing on the stock exchange. BAIC Executive Vice President, Li Xingxing, briefed the visiting journalists on the company's activities, saying NEV vehicles are the path to take because they do not pollute the environment. BAIC BJEV plans to expand its business to more countries Xingxing said. It has already set up a plant in South Africa and does business in 48 countries, including Sudan, Ghana, Egypt, Angola and Ethiopia.

It has invested about 168 billion FCFA in the 48 countries, creating 6,000 direct jobs and about 30,000 indirect jobs. The first vehicles from the 460.1 billion FCFA South African assembly plant are due early next year, with most of them destined for export to the rest of Africa. The factory, near the car export hub of Port Elizabeth, will be the first new car plant in South Africa in four decades. It is expected to build 50,000 vehicles a year by 2022, half its estimated peak output.

BAIC owns a 65 per cent stake in the joint venture, with South Africa's State-owned Industrial Development Corporation, owning the rest. The company assures of the availability of after-service spare parts in Africa. Malawi will soon be Africa's spare parts centre, Li Xingxing disclosed. Since the beginning of 2017, BAIC has already attained 41.1 billion FCFA in trade volume, making 278.1 billion FCFA profits.

BAIC BJEV has in the past four years been the leading electric car seller in China and the fourth globally. It recently sold 100,000 cars, equivalent to 250,000 tonnes of carbon emission reduction or 2 million trees needed to curb green house gas emissions. The company looks forward to exceed its production capacity of 800,000 cars a year. It has five series of products, with some cars going 400 km per charge. The target is to attain 8,390 billion FCFA sales and 5,033 billion FCFA annual revenue, officials explained.