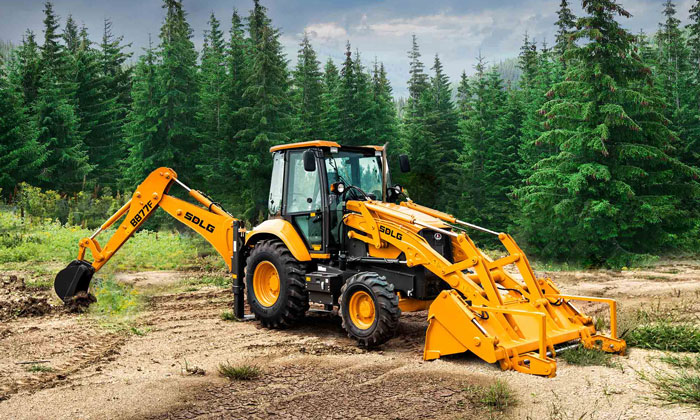 Photo by:meconstructionnews.com
SDLG has launched a new backhoe loader for the Middle Eastern and African markets that claims several improvements over its predecessor.

A statement from the Volvo CE-owned Chinese equipment major said that the new B877F sideshift backhoe loader is half a ton lighter than its predecessor, the B877, and features a new engine, greater cab space, and enhanced cooling capacity, as well as state-of-the-art loader linkage and other improvements. Part of SDLG's F-series of backhoes, it is available in the region's market as of this month.

"SDLG backhoe loaders always receive a great deal of interest in the Middle East and Africa, and for good reason: they are extremely versatile and efficient machines. Whether you're operating the loader or the excavator, the new B877F has the power and manoeuvrability to handle almost any job. Those looking for a high-performing, reliable, easily operable and cost-effective backhoe loader need to look no further than SDLG," said Henrik Sjöstrand, product manager at SDLG.

The B877F is equipped with an improved loader linkage system to provide better breakout force and comes with a one cubic metre capacity loader bucket as standard. The model's kinematics have also been improved, said SDLG, and it is now easier to anchor the machine when using the excavator bucket.

It also offers better control of the excavator arm when repositioning, better stability and more efficient excavating. In addition, the new model features a 55-degree steering angle, improving manoeuvrability, which is particularly advantageous when working in confined areas.

"Customers can purchase the B877F with either a multi-purpose or general-purpose loader bucket, together with an extendable or standard arm," said Sjöstrand. "There is also a wide range of attachments to choose from, such as various sizes of excavator buckets and flip over forks. The B877F can be equipped with additional hydraulics if needed."

The B877F is fitted with a new 70kW Yuchai engine, manufactured by Guangxi Yuchai Machinery Group Co., Ltd. The new engine features the same power as the machine's previous engine, but offers higher torque. It now supplies the hydraulic system with a constant flow, providing the operator with a reliable power supply for extended durations, SDLG's statement added.

Access to the engine is made easier through a larger, rear-hinged engine hood. To make maintenance easier, the filters and water separator have been grouped in the engine compartment.

The B877F has been fitted with a larger radiator, with an ambient temperature of 50 degrees Celsius. This improved cooling capacity leads to better performance in hot climates. Access to this high-capacity radiator is also made easier via the large hood opening.

"Easier and more affordable maintenance is something our Middle Eastern and African customers are increasingly demanding," said Sjöstrand. "The new series has been specifically designed to ensure that service and maintenance can be handled with ease."

The B877F has a new, spacious cab that provides operators with excellent visibility around the machine, as well as greater space for turning between the loader and excavator operating positions. The ergonomic cab features a new handbrake design and a new parking brake that is easier to operate and has better brake force.

The air conditioning has been improved for this model with outlets from the ceiling providing 30% increased cooling capacity and a 120% improvement in blowing speed than previous-generation machines. This results in faster cooling of the cab and a much more comfortable operator environment, particularly in the hot climates of the Middle East and Africa, said SDLG.