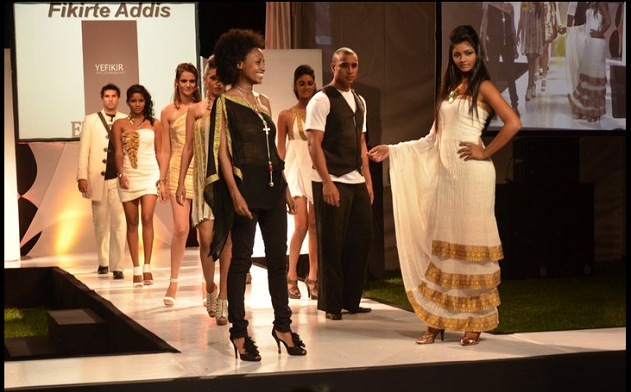 Photo by:AddisZefen
Textile and apparel industry is a strategic investment sector with an annual market transaction of more than three trillion USD worldwide which accounts for about two percent of world's Gross Domestic Product (GDP). This also gives opportunity for the fashion industry to thrive.

According to a forecast by the Fashion Industry Summit held in Copenhagen recently, rapid population growth and economic development will lead to a 63 percent rise in the global consumption of clothing in 2030. Hence, by the time, some 8.5 billion people will require clothing.

The global fashion business is growing and expected to generate double digit growth in the coming few years. While much of this growth is actually coming from developing markets like Asia, fortunately Africa is now slowly claiming its share.

The industry is also a strategic investment area for Ethiopia as part of ongoing industrialization effort targeted to boost export, increase forex earnings and create abundant job opportunities for the rising young population.

Africa Sourcing and Fashion Week 2017 that focuses primarily on sustainability in the clothing industry was recently held in Addis Ababa with the theme "Sustainability in Clothing".

"We build industrial parks with an investment that tally up to more than 4.2 billion USD and Africa Sourcing and Fashion week will help us show the world what we are doing. This event will attract investors and allow us to learn something from the participants," said Fitsum Arega, Commissioner of the Ethiopian Investment Commission, speaking to journalists at a press briefing ahead of the event.

Early in October 2017, a conference running parallel to the trade fair discussed the themes that are currently dominating the textile industry, such as sustainability, with a particular focus on production, the environment and certifications.

Sustainable production is increasingly becoming an important issue for fashion buyers these days. The Fashion Week creates an increasing interest in eco-fashion and presents new approaches in this respect as indicated in a statement from the organizers.

The event is Africa's biggest exhibition and conference for the textile and apparel industry. It consisted of an international exhibition with over 240 famous international exhibitors from more than 27 countries, a high level conference with over 60 speakers, B2B (business-to-business) meetings and Designer Showcases, said Skander Negasi, CEO of Trade and Events Consulting at Messe Frankfurt, a German Based Event Organizer.

This major event is supposed to have huge impact on the Ethiopian textile and apparel market. "We have welcomed international investors and sourcing groups from over 35 countries. These well known companies do not only visit the event, but also visit various industrial parks, engage in B2B meetings and attend conferences to learn about East African investment opportunities", added Negasi explaining how the country could benefit from the event.

"In addition, Addis Ababa has also benefited through the guests' activities, as hotels were fully booked out, restaurants had new guests, and our carrier partner Ethiopian Airlines has been flying them to and from Addis. We are speaking of about 3,500 trade visitors and over 240 exhibitors which have a team of over 500 persons. In total, Addis Ababa took care of over 4,000 people during the whole week."

Ethiopian textile and garment industry has a bright prospect and potential to be a giant manufacturing industry in the continent. To reach this goal, it is important that the government support investors by reducing bureaucratic red tapes and facilitating efficient visa issues and customs services. Moreover, these kinds of events are crucial to sensitize the business community and show them what is really on the ground.

It is tough to attract investors, said Negasi, but it is even tougher to keep them in the business. For manufacturers it is of utmost importance that they can get in their machines easily and export their outfits on time. "Custom has been an issue in the past, but we have been informed that the government is working hard to solve the issue."

The country is set to have a total of ten industrial parks including the already operational ones, exclusively customized for the whole value chain of textile and apparel manufacturing. In addition to these government financed factory sheds, private industrial parks are in the pipeline. For instance, while Velocity Industrial Park at Makalle has already gone operational and is attracting more investors, similar projects are underway in Mojo and Alemgena, explained Fitsum.

The Fashion Week is a golden opportunity to show the world how extraordinarily the country is doing in terms of creating conducive atmosphere for investors. In the sector, Ethiopia provides an investment advantage that could give a competitive edge to investors in the international fashion industry. "Our strategic location in Eastern Africa and the ample incentive packages offered for investors coupled with low labor and electricity cost, would secure an immense strategic advantage in the targeted western markets," said Fitsum.

Moreover, according to Fitsum, the western market is the biggest market for the fashion industry whereas Ethiopia, unlike its Asian competitors has a quota free export scheme which provides another competitive advantage to those who manufacture in Ethiopia.

Sustainability is an important issue that has been taken in to consideration on the event. Textile, leather and apparel production is the second biggest polluter of the environment, next to oil. If not managed properly, the chemical wastes from these factories could pose the biggest challenge to the environment. That's why, the Ethiopian government from the beginning has given due emphasis for sustainability. "For instance, the Zero-Liquid discharge facility at the Hawassa Industrial Park is one good exhibit that demonstrates our effort for sustainability," argued Fitsum.

Exhibitors and visitants of this fashion week had also gotten the opportunity to learn more about the benefits this country offers with regard to investing in the manufacturing of fashion commodities, be it apparel, footwear, clothing accessories and other textile and leather products.