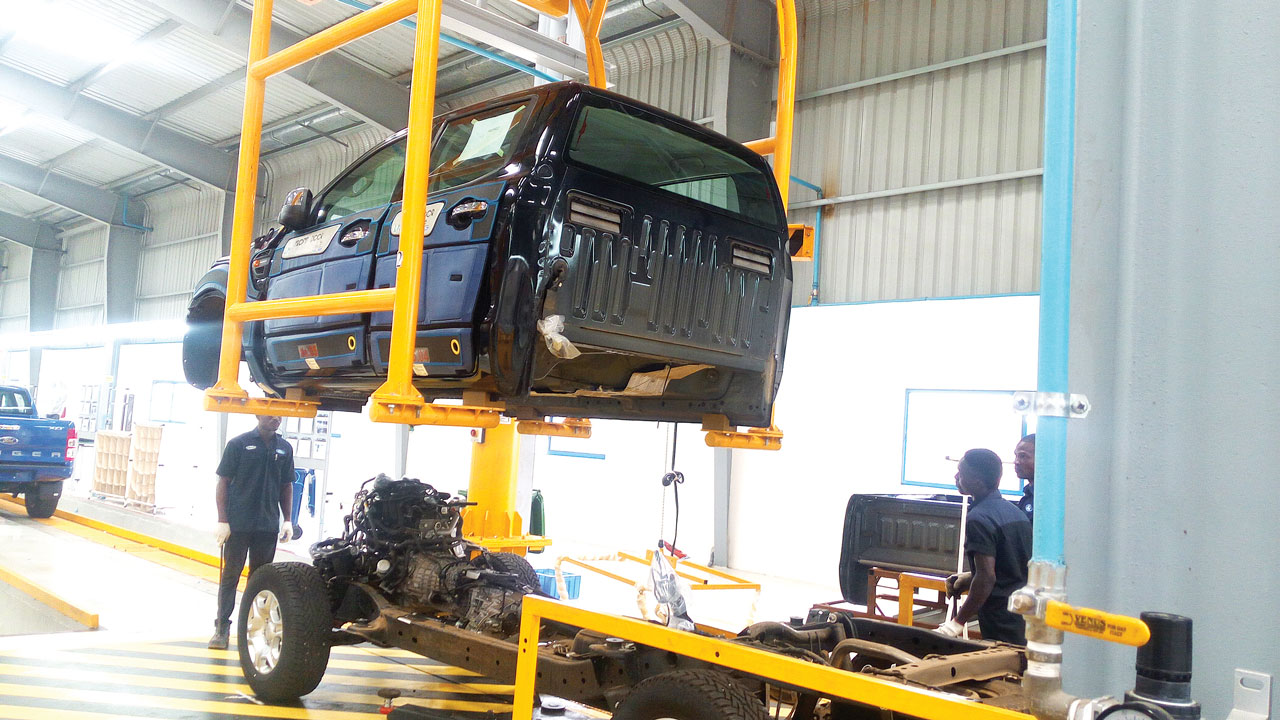 Photo by:The Guardian Nigeria
Coscharis Group has unveiled its Ford assembly plant in Lekki area of Lagos. It has the capacity to produce 10,000 to 20,000 cars yearly.

Already, Coscharis has rolled out 600 units of Ford Ranger multi-purpose mini-truck as part of measures to expand and consolidate on existing market share in Nigeria and West Africa.

Speaking at the event, President, Coscharis Group, Cosmas Maduka, said the facility was the second Ford plant in Africa, after South Africa and the first ever in Nigeria and the entire Sub-Sahara Africa.

According to him, the assembly plant has the capacity to churn out 10,000 to 20,000 cars annually, even though the number of vehicles assembled this year so far is about 2,000.

He said the plant is an initiative from the organisation to further create value as a leading player in the automotive industry in Nigeria, in response to the clarion call of the Federal Government of Nigeria through the National Automotive Industry Development Plan (NAIDP).

He added that the plant is also to appreciate the confidence that the globally respected iconic brand, Ford, reposed in its organisation as its exclusive official representative in Nigeria to roll out the very first Ford Assembly Plant in Nigeria. This milestone marks another first in the evolution of our company towards remaining timeless in its relevance.

"The NAIDP aims, among other objectives, to discourage the importation of Completely Built vehicles and encourage the local manufacturing of vehicles through either Complete Knocked Down or Semi Knocked Down facilities for a start.

"We are aware that a few automobile companies have also initiated their process towards achieving this objective. However, at Coscharis Motors Plc, our concern and commitment to our loyal customers and stakeholders is to, as usual, set standards that other players will be judged by in the industry," he said.

He said: "It has been a long wait from when the company first announced in November 2015 that we had commenced physical structuring of the new Plant sighted on a piece of land of more than 14 Hectares within our Lekki Group head office in Lagos.

"At the moment, our focus at the Plant is to rollout the Ford Ranger, which is a multipurpose mini-truck that serves well for both work and leisure, we also can produce 60 units a day using two shifts."

"As you are all aware, Ford has a global standard for all of its products including the Ranger. Therefore, Ford's certification of our facility and output is a confirmation that every single Ranger that rolls out of this plant is indeed "Built Ford Tough" from which we've rolled out over 600 units from this facility since we started operation; some of which are on display outside," Maduka revealed.

Assembly Plant Manager, Sola Afolayan, who conducted journalist round the plant, revealed that all laid down specifications and production procedures are being followed in line with Ford's global standard operating system.