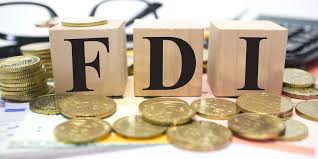 Photo by:Searchlight News
KPMG has disclosed that Foreign Direct Investment, FDI, into the Nigeria digital space over the last year is almost $1 billion.

Speaking during a press briefing on KPMG Digital Summit 2017 themed, "Leading through Digital", in Lagos, Boye Ademola, Partner and Lead, Digital Transformation, KPMG Nigeria, stated: "Foreign investments in Nigeria based digital businesses approached the $1billion mark over the last year alone with the most significant investments going to e-commerce and payment platform companies.

"There have been record level valuations and investments over the last 18 months for several digital entities in Nigeria, comparable with that of some of the most valuable financial institutions on the Nigerian Stock Exchange. Just recently, the Chinese alternative financing firm, Qudian, a Fintech founded in 2014 raised $900m from its initial public offering (IPO) on the New York Stock Exchange (NYSE).

"Alibaba, a digital business model has 450 million users and is now the eighth most valuable company on the New York Stock Exchange. Qudian and Alibaba remind us that the future is digital and digital businesses are leading a revolution. Not surprisingly, as at Q3 2017, 6 of the 10 most valuable entities in the world are digital businesses."

On the KPMG Digital Summit 2017, Ademola said: "The main thrust of this year's summit is getting thought leaders and industry experts to share perspectives on strategic themes such as the required operating model overhaul, regulatory imperatives and the collaboration agenda necessary to drive digital innovation across various sectors of the economy, to position Nigeria as a more attractive destination for local and foreign investors.

The summit is expected to attract over 400 participants including Financial Service Institutions, Fintechs, Accelerators, Government Agencies, Regulators, Private Equity and Venture Capital firms, amongst other stakeholders with an interest in digital innovation in the financial services industry.