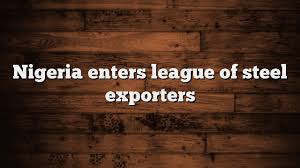 Photo by:Nigerian Oracle
There is strong indication that after cement, Nigeria's steel industry is the next sector to watch as African Industries Group, the largest steel manufacturer in the country, has started exporting the product to Morocco, Egypt and Ghana.

Steel is made from iron ore, limestone and natural gas, and its usage cut across tools and machinery, energy, automotive, building industries.

Raj Gupta, Chairman, African Industries Group, while speaking ahead of the unveiling of the company's export strides to government officials, bank chiefs and other stakeholders in Lagos, next week, said the company has been working aggressively to put Nigeria on the global map of steel producers and exporters.

He said that the company is currently exporting 200,000 metric tonnes yearly out of its one million metric tonnes per annum production capacity.

Uche Iwuamadi, the firm's Group Executive Director, Legal/Corporate Affairs, added that with this move, Nigeria is now shifting from imports-oriented economy to that of an export giant.

He said, "Nigeria is known for being an import oriented economy and is now entering a real world map of exporters, not of raw materials or agric produces but a classical industrialised products like iron rods.

"The beauty of it all is, we started from the African landscape by exporting to Morocco, Egypt and Ghana, which is quite remarkable because countries like Morocco and Egypt can easily bring in some steel but they found Nigerian steel of the highest quality. That is a start. The next thing is to go beyond Africa."