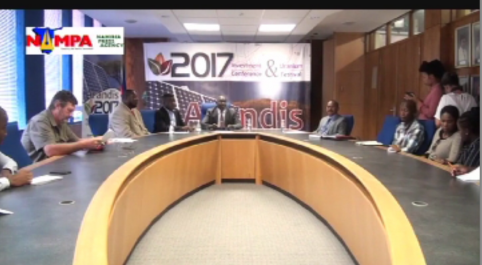 Photo by:Namibian Broadcasting Corporation
Windhoek — The Minister of Information and Communication Technology, Tjekero Tweya, on Wednesday launched the Arandis Investment Conference and Uranium Festival at an event that was held in Windhoek.

The conference will focus on investment opportunities in Arandis, positioning Arandis as a preferred logistics hub, showcasing the Erongo Region's potential opportunities in uranium mining and tourism exploring renewable energy and IT solutions, and creating networking opportunities across various business sectors. The day-long Arandis Investment Conference will be held on November 10.

The theme of the 2017 investment conference and festival will be 'The Hot Spot for Renewable Energy and IT Solutions.'

Speaking at the launch, Tweya who is also the patron of the Arandis Investment Conference, said the theme of this year's conference is perfectly reflected in Arandis's true potential in terms of renewable energy and ICT solutions.

"The hot spot for renewable energy and IT solutions interrogates the key purpose for this conference, which is to focus on what Arandis can offer in terms of becoming a centre for renewable energy and ICT industries, because the economy of Arandis is influenced by the activities of the surrounding uranium mines that are dependent on energy and ICT services, hence this year's festival will offer the networking for potential investors in these industries and an opportunity to showcase their products," stated Tweya.

At the event Arandis Mayor Risto Kapendah described Arandis as the fastest centre of attraction for developments in terms of the logistics industry, renewable energy and the ICT sector.

"Currently the town is experiencing high volumes of investment projects, for example the logistics hub, solar power plant, data farm, techno park, while other projects are at advanced stage to be implemented," said the mayor.