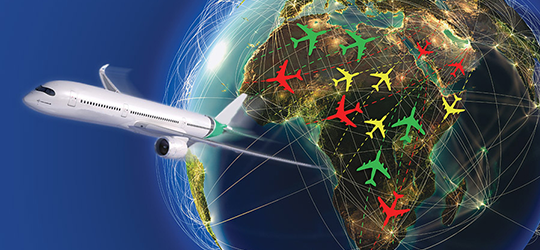 Photo by:Elicit Africa
Increased investment in Africa's aviation sector and introduction of new routes has led to a 13.3 per cent boost in arrivals, giving a positive outlook to the sector's fortunes.

Major growth has been recorded in terms of international flight arrivals at African airports, according to ForwardKeys, a platform that monitors travel patterns by analysing more than 17 million bookings daily.

East African destinations also registered strong growth of 12.2 per cent, this year, particularly from European visitors, up 16.3 per cent. Arrivals from the Americas and Asia Pacific grew less than the number of those travelling within Africa.

Total scheduled capacity for international flights to the EAC, to the end of 2017, is up nine per cent, with Kigali leading the growth, up 89 per cent, due to seven new routes, three of them originating in Brussels.

Dar es Salaam was the only destination showing a decline in long-haul capacity due to Oman Air dropping its flights from Muscat.

Egypt and Tunisia lead the recovery after the health and security concerns of 2014 and 2016 begin to fade. Visitor numbers to Morocco and Tunisia were further boosted by visa exemptions for Chinese travellers.

However, the fact that this growth is largely driven by arrivals from outside Africa and not from intra-Africa travel shows that the sector still has faces an uphill task promoting air travel between African countries.

"I am pleased with such strong growth in air travel to Africa; demand and airline investment has been greater in travel into Africa than it is between African countries" said Jon Howell, the managing director of AviaDev, a leading partner in Africa's airlines route development.

"I hope that the discussions taking place at AviaDev will encourage airlines to open up more routes within the continent," Mr Howell said.

Although the intra-Africa route growth is still relatively low, it is beginning to take shape with the entry of local African firms such as Jet Afrique, Jetwest and Fastjet.


What market needs
Some are coming up with low-cost airline models, serving domestic routes especially in West Africa and between countries targeting first time flyers and cargo transportation for the largely untapped market of low-income earners.
"Jet Afrique is a hybrid, combining the low-cost model and the contingent services of a network operator because that's what the market is demanding in West and Central Africa," said Theodore Chikelu, CEO of Jet Afrique.
"There is a need for airlines to discount prices to enable the emerging middle class of young people to fly and have greater choice of what ticket to buy," said Mr Chikelu.
Bookings to Africa for the rest of 2017 from September 21 to the end of the year are 15.2 per cent ahead of last year's, thanks to early bookings from the Americas, up 20.6 per cent, and Europe at 16.4 per cent.
The Asia Pacific is also sustaining its growth, up by 16.1 per cent. In Africa, airlines' scheduled capacity is up, led by international long-haul flights, up nine per cent.