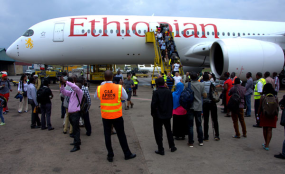 Ethiopian Airlines disclosed that preparations have been finalized to launch flights to three new destinations- Victoria Falls, Oslo and Antananarivo within three days starting from March 26-28 , 2017.
Group CEO Tewolde Gebremariam noted that the new destinations further enhance the leadership the airliner holds in connecting many cities in the African continent.
The CEO called the new move as one of the greatest expansion in the airliner's history.
He said : " Three new flights to three new destinations in just three days is one of the greatest expansions in Ethiopia's long and illustrious history. We are proud that we are able to link theses new stations to the Ethiopian network in such a short period of time."
Tewolde commended the dedication employees of the airliner have shown for such a success.
Victoria Falls, Oslo and Antananarivo are three of the seven destinations Ethiopian planned to launch during the first six months of 2017.
The airliner started flights to Conakry in February 2017 and plans to serve three new destinations in Asia: Chengdu, Singapore and Jakarta before July 2017, according to the press release of the airliner.
Ethiopian Airlines (Ethiopian) is the flag carrier of Ethiopia. During the past sixty five plus years, Ethiopian has become one of the continent's leading carriers, unrivalled in Africa for efficiency and operational success. Its operating profit more than doubled in 2012-13 and, over the last seven years, its revenues have leapt from $390 million to over $2 billion. Against the backdrop of a strong home market—Ethiopia has posted double-digit GDP growth over the last decade, making it the third fastest growing economy in the world—Ethiopian Airlines CEO Tewolde Gebremariam has a strong, ambitious strategy to seize the market.
Mr. Tewolde Gebremariam joined Ethiopian Airlines in 1985 and since January 1, 2011 has been serving as CEO of Ethiopian Airlines. Mr. Tewolde has won three distinguished awards: The African CEO of the Year (2012), the Best African Business Leader (2012) and The Airline Strategy Award for Regional Leadership (2013).