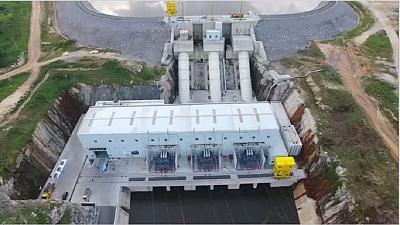 Image from www.africanews.com
Ivory Coast on Thursday November 2,2017 started producing power at a 275 megawatt (MW) hydroelectric plant that will boost the country's electricity output by more than 10 percent.

"The construction of this dam will reinforce electricity production in Ivory Coast, which will now surpass 22000 megawatts, so we are well on our way to reaching the target set buy the government. The second thing is that it contributes to local consumption of electricity and will also enable us to export electricity and increase distriburtion of local electricity to neighbouring countries," said Amidou Traore, General Manager, Power Sector Management Agency Cote d'Ivoire-Energies, which is supervising the project.

The world's top cocoa grower, has emerged from a decade-long political crisis to become Africa's fastest-growing economy, but that growth has strained power supplies.

The new plant near the south-western city of Soubre was financed by a $500 million low-interest loan from China's Export-Import Bank and built by China's state-owned hydropower engineering firm Sinohydro Corp.

Sinohydro started construction on Thursday of another 112 MW hydro plant near Soubre, which is expected to take three years to build. The Ivorian government will fund half of the $306 million cost, with the rest coming from bilateral donors.

Unlike many countries in sub-Saharan Africa, Ivory Coast has a reliable power supply. It exports electricity to neighbours Ghana, Burkina Faso, Benin, Togo and Mali, and plans to extend its grid to Liberia, Guinea and Sierra Leone this year.

"What we are looking for in all these investments is to have a constant source of production of electricity, and in the long run, to look at different ways to reduce the cost of electricity," President Alassane Ouattara said at the inauguration ceremony.

With domestic consumption rising by about 10 percent a year in Ivory Coast, the government is under pressure to boost supply at home and aims to increase output to 4,000 MW by 2020, from the current 2,275 MW.