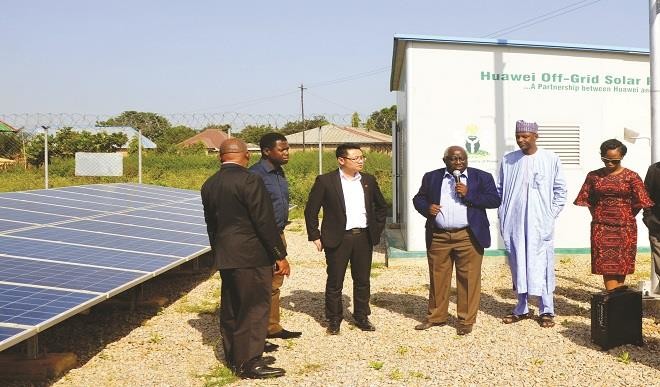 By Simon Echewofun
Nigeria Plans to Generate 45% Electricity with Renewables. As reliance on gas to generate most of Nigeria's power needs isn't yielding result, the federal government is strategising to raise the contribution of renewables to generate electricity to 45 per cent by 2030 when the national grid would have hit 30,000 megawatts (mw).



A new energy policy document launched in July 2016 and obtained by the Daily Trust projects a diversified electricity grid of 10,325mw by 2019, and 45 per cent renewable energy grid contribution by 2030.
The Minister of Power, Works and Housing, Mr Babatunde Fashola, in the document, said that the decision was informed by the unstable gas supply situation. "From conception in January 2016 and conclusion in June 2016, our vulnerability to over dependence on gas had become apparent," he said. "23 out of the 26 power plants in the country depend on gas.



"Between February 14 and June 2, 2016, there have been 14 incidents of oil and gas pipeline vandalisms. Therefore this document is also a solution to that vulnerability on the roadmap to energy diversity and security."
Recently, the ministry's Director of Energy Resources, Engineer Emmanuel Ajayi, at a renewable energy workshop in Abuja, said that the document, titled: "The Nigerian Power Sector Investment Opportunities and Guidelines," gave the breakdown of how goals would be achieved, saying: "It shows that 10 per cent would come from solar power, 12 per cent of Large Hydro Power (LHP), two per cent of Small Hydro Power (SHP), and one per cent of Coal."
The projection by 2030 will solve issues of the current overdependence on gas-to-power which accounts for 86 per cent of electricity generation so far, with Large Hydro Power (LHP) contributing only 14 per cent, he said.
The policy, which supports huge private sector investments, targets an energy mix of 55 per cent gas-to-power. The renewable energy sources would include 16 per cent of solar, 15 per cent of Large Hydro Power (LHP), and 4 per cent from coal-to-power.
Other renewable sources are four per cent Small Hydro Power (SHP), four per cent from Biomass, and three per cent from wind.
However, Cape Verde, an African island nation with 550,000 population, plans to attain 30/35 per cent of renewable energy contribution to its grid by the end of 2016. It plans to raise it to 50 per cent by 2018 and completely rely on renewable energy sources from 2020, the country's energy minister, Anildo Costa, said in The Independent newspaper.
The Island country which is about 500km off the coast of Senegal, is with almost no mineral resources of its own and little arable farmland. It has about 10 islands and 13 islets situated in the middle of the Atlantic Ocean but has abundant wind and sun.
As at 2011, the country's total capacity installed is about 116mw, including 25mw of wind power and 7.5mw solar (i.e. 28 % from renewable energies), data obtained from the World Bank website reveals.
The estimated 151mw for the country's population can only serve one-third of Nigeria's capital- Abuja, which has over 1.4m people, according to the NPC preliminary census figures.
Current energy demand for Nigeria is over 12,000mw but power generation has averaged 3,500mw this month, updated statistics from the Nigeria System Operator has shown.
A recent study conducted by the German international agency (GIZ) and power ministry said that over 60 per cent of the 170m population of Nigeria are unconnected to the national grid.
The study identified 174m population that should be connected. It said that 34,446 clusters with 57.1m people should be assigned to the grid while the other 13,043 clusters of 116.9m people should be electrified with renewable energy. Another 7,210 clusters with 2.8m people in the rural areas should be electrified using Solar Home System (SHS), the study says.
To achieve that, the construction of over 10 solar-based power plants worth $1.75bn would begin in 2017 while about 1,125mw of electricity will be added to the grid on completion around 2018.
One of the investors and Managing Director of the Pan Africa Solar, Marcus Heal, said: "Our plan is to supply electricity to millions of Nigerians by developing large scale solar technology. The investment of $1.75bn is the largest on solar so far in the country, most of them are bound to come on stream from 2017."
The plants would be sited in Katsina, Bauchi, Nasarawa, Sokoto, Kogi, Jigawa, Plateau, Kaduna and Enugu states and the FCT.
The Managing Director of the Niger Delta Power Holding Company (NDPHC), Chiedu Ugbo, recently, said that his firm has got a presidential directive to provide 20,000 SHS to underserved rural areas with no access to the national grid as part of the renewable energy application process.
Ugbo said that the project would be deployed within 21 months as it has partnered with a local firm, Azuri Solar Power Ltd.
With the rising cost of electricity to power businesses, an expert has said that more investment in solar power could cut energy cost by over 50 per cent.
Mr Justice Ekeke, who is the Managing Director of the Solar King Industries, in an interview, said that new solar power packages now goes for just N250,000, and small businesses could be powered with three solar panels, an inverter, the charge controllers and other accessories.
"While it is a bit high to acquire initially, it is cost-effective power source for homes and small business in the long run," he said.