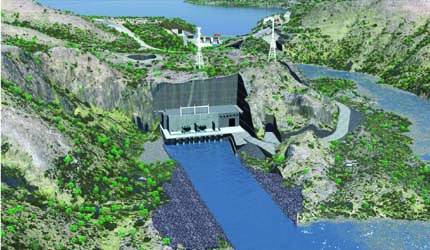 By Kabona Esiara
A consortium of two Chinese firms and an Austrian engineering company has been selected to build the 80MW Rusumo hydropower station that is being jointly developed by Rwanda, Tanzania and Burundi.

The Rwanda Energy Group (REG) said China Geo-Engineering Corporation, Jianxi Water and Hydro Construction Ltd and Austria's Andritz Hydro will carry out civil, electronic and mechanical works on the power plant, which is expected to be commissioned in 2019.

The firms are expected to sign a contract with Rusumo Power Company in a week's time, paving the way for construction of the $340 million power generation facility starting early 2017.

Rusumo Power Company Ltd (RPCL) is a limited company, publicly owned and financed by the three countries but privately managed.

Andritz Hydro was qualified for electro-mechanical works, beating 17 other global firms that were prequalified. "The selection of the contractors is not a secret as it has been posted on the World Bank website. We are signing contract agreements next week," said Johnson Lee Pattinson, Rusumo Falls Hydroelectric Project manager.

The African Development Bank 2013 project appraisal says that when completed, the dam is set to increase electricity supply capacity and enable Rwanda, Tanzania and Burundi to plug their energy deficits.


Domestic demand

There are growing concerns in the region that the current electricity generation capacity cannot meet the increasing industrial and domestic demand. Governments are forced to run heavy diesel generators or buy electricity from independent power producers at high feed-in tariffs, thus pushing up end user power tariffs.

AfDB is optimistic that with the completion of the Rusumo dam project, Rwanda and Tanzania will be able to replace some of the energy generated from high cost imported fuel with cheaper hydropower.

"In Burundi, the project will provide 50 per cent of the current peak power demand; this will allow the country to expand its access and other economic activities, and reduce CO2 emissions considerably," AfDB said in its report.

Since 2003, East African countries have been interconnecting their power lines to improve supply, stabilise access and foster trading in electricity across national borders.

Kenya, Uganda, Rwanda, Burundi and Tanzania agreed to pull out of a proposed regional power sharing pool in favour of the wider East Africa Power Pool (EAPP), under which the EAC Power Pool falls. EAPP is meant to link up nine countries by 2018.

Under the East African Power Pool project, countries are expected to export surplus electricity, whenever available, to neighbouring states in need, given the fact that power production in the region is still unstable due to its dependence on hydroelectric power generation.

Power supply

In Burundi, the plan is to construct 161 km of 220 KV, single circuit transmission line from the power plant to Gitegavia Muyinga substation.

For Rwanda, 119 km of a 220 KV, double circuit transmission line system is to be constructed from Birembo substation through the new Bugesera International Airport substation.

In Tanzania, construction of a 98.2 km, 220 kV, double circuit transmission line system, from the power plant to the new Nyakanazi substation is underway.

The region is also working on different grids to ensure reliability and security of the region's power supply, and improve trade and sharing of resources among the three East African countries.

For instance, a 400-kilovolt (kV) transmission lines will connect Olkaria in Kenya, where the country is building geothermal power plants, to Birembo in Rwanda through Uganda.

Upgrading the lines is to allow power transmission capacity of over 500 MW in the three partner states and ensure reliable supply in the region.