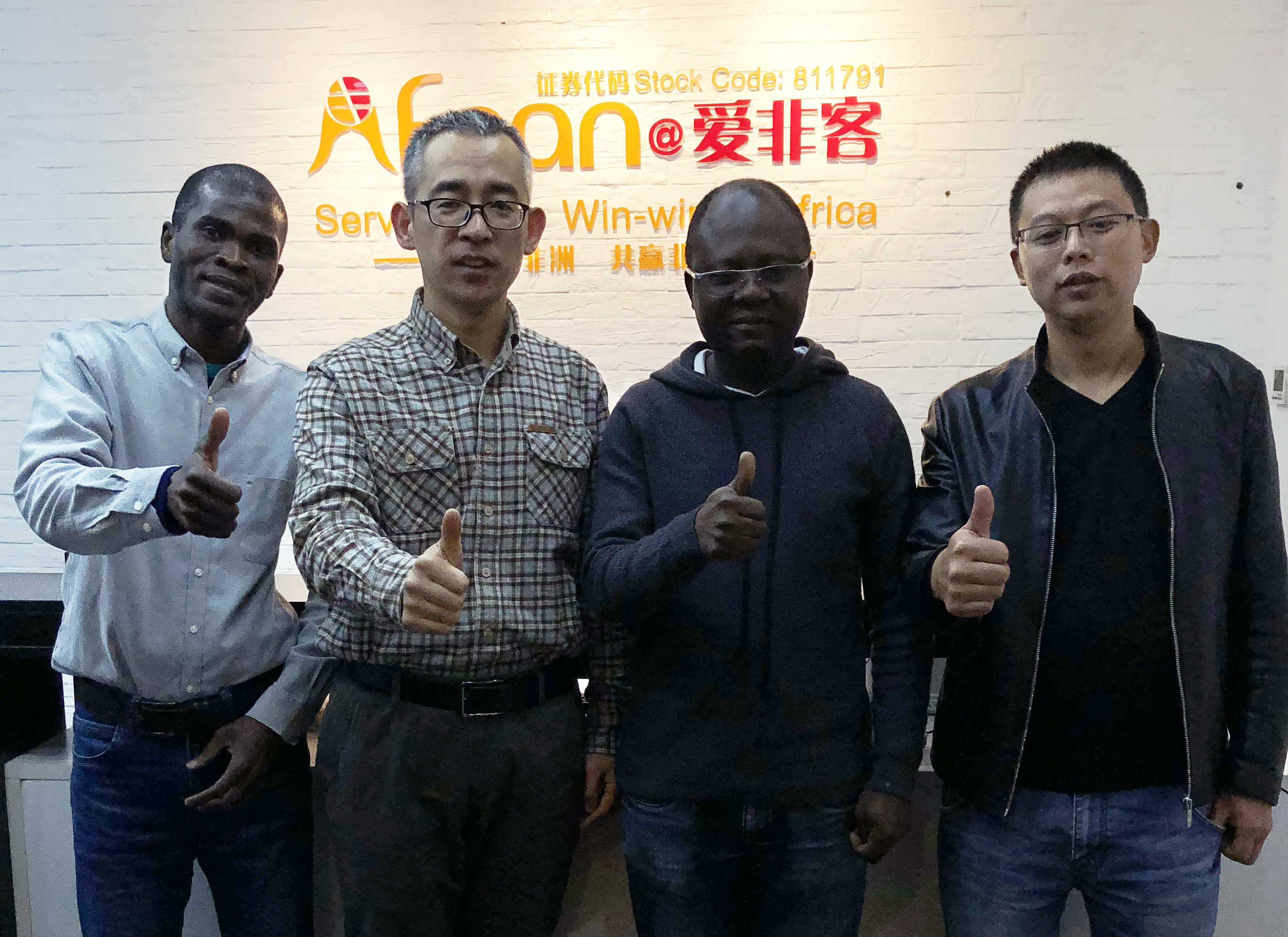 Photo by:Afrindex.com
November 14, Afrindex and Cameroon enterprise ETS Invest link established cooperation after a series of consultations .By taking "Co-construction, Co-operation and Win-Win " as core concept of cooperation, the two sides would spend heavy money on building Cameroon Trade Website to promote China -
Cameroon
trade and mutual economic development.
It's the first time for a China-Africa trade internet enterprises being listed in the stock market. This cooperation marks the second layout on Afrindex's operational site system in Africa.As the Central African Branch site of Afrindex-African E-commerce Carrier, Cameroon Trade Website adopts Afrindex's numerous advantages, which are in fully conformity with Cameroon buyer habits and Central African markets features. It's going to be milestone of Chinese companies to explore African market and a trade matchmaking service platform focused on Cameroon.
The successful listing of Afrindex in Africa has been widely reported by the mainstream media in African countries. According to ETS invest Link director Eddy Ernest Nginyu's introduction, ETS Invest link has been delicated to Cameroon and Central Africa Market of investment and trade for many years. TS invest Link witnessed the influence of China and China "Belt&Road policy as well as the change China made on Africa. In recent years, Cameroon enjoys stable political situation, the Government is vigorously attracting foreign investment to promote economic development. However, the number of Chinese enterprises in the Cameroon is still relatively small, even though its market holds tremendous potential. Keenly aware of the prospects of bilateral trade &cooperation through reading the reports that Afrindex successful being listed in the stock market, Eddy got in touch with afrindex the headquarters in China and started follow-up cooperation.
"Afrindex is in line with our company's goals, especially its idea of setting up an operating site in the five African communities, which really surprises us. "We are very proud to be a Afrindex operation center in Central Africa and to operate the Cameroon trade website," Eddy said. "We believe that it is the best time for cooperation between China and Africa, because there are strong supports for bilateral cooperation, both in the China and Cameroon. We're trying to help Cameroon's enterprises to find opportunities to survive and develop themselves. The cooperation with Afrindex-African E-commerce Carrier can help us to build solid connection with Chinese enterprises and establish reliable connection with them to implement trade between the two countries. "
ETS Invest Link is an investment company in Cameroon enjoys stable customer base , a large number of media resources, and good relationship with local government&associations. Their business and customer orientation are in consistent with the Afrindex's marketing strategic to explore the Central African market. The alliance between Afrindex and ETS invest link will help to broaden the African market further. The Cameroon trade network will be deeply rooted in Cameroon, helping more Chinese enterprises to cooperate with Cameroon's High-quality clients and achieve win-win. at the same time, help the Cameroon high-qualified products into global market.
It is known that Afrindex.com belongs to Afcan China, with three main websites clusters under Afrindex African Trade Carrier as follows:
6 African service platforms clusters: Afpedia, China-Africa Trade Research Center, China-Africa Exhibition Network, China-Africa Supply Chains Network, China-Africa Talents Network, Afrindex Investment Network,;
6 Industrial websites clusters: China-Africa Electromechanical Network, China-Africa Building Materials Network, China-Africa Textile Network, China-Africa Chemical Network, China-Africa Food Network, China-Africa New Energy Network;
10 African countries' trade websites cluster:
Morocco
Trade Website, Kenya Trade Website, Ivory Coast Trade Website,
Ghana
Trade Website, South Africa Trade Website, Nigeria Trade Website, Uganda Trade Website, Ethiopia Trade Website, Tanzania Trade Website and Algeria Trade Website.
Afcan concentrates on China-Africa cross-border e-commerce , successfully operating Afrindex the African E-commerce Carrier. Afcan's original Afrindex-SAS(Steward Type African Promotion Service)system, including Afrindex--African E-commerce Carrier, African localization Promotion Alliance, Pan-African exhibitions and magazines. SAS deeply implanted in electromechanical equipment, building materials, textile, chemicals, food, medical and new energy industry, aiming at making China-Africa Trade easier.
Afrindex coming with open concept of ""Co-construction, Co-operation and Win-Win ", welcomes all partners to join hands with us to explore the African market.