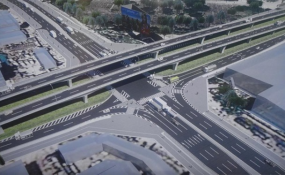 Pretoria — Gauteng MEC for Roads and Transport Ismail Vadi has launched a R80 million roads rehabilitation project between Bronkhorstspruit and Ekangala, in the City of Tshwane.
MEC Vadi said the D670 road carries heavy traffic volumes, particularly coal trucks running between various mines and power stations.
As a result, the road condition has deteriorated and is in need of major rehabilitation. "This is part of the Gauteng provincial government's efforts to roll out road infrastructure aimed at stimulating economic growth and creating job opportunities in communities," said MEC Vadi.
The project, which is expected to be completed within 24 months, was launched on Monday, in Bronkhorstspruit.
The provincial department's commitment to providing training, skills development and empowering BBBEE contractors will see the main contractor, sub-contracting a sizeable percentage of the work to local Small, Medium and Micro Enterprise Businesses.
Specific emphasis has been placed in the contract on employing females, youth and persons with physical disabilities.