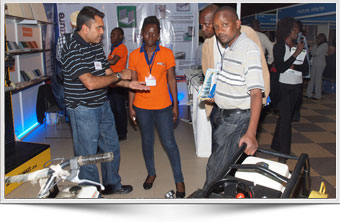 AFRIWOOD 2017 is the foremost exhibition that offers you a chance to meet wood and woodworking professionals and develop ideas for increasing the range and quality of one's business. It has a vision to be the platform for creative ideas and new technologies, as the attention of wood manufacturers and traders turns to innovative resources that would initiate business. Kenya, the hub of the East African Continent, is the place where the wood industry will meet.
AFRIWOOD 2017 is the event for the latest innovations & technologies and will become the platform of progress across the wood & woodworking sector for Africa. Exhibiting at this event will connect you with the rest of the wood industry worldwide. Trade visitors, professionals and serious buyers from all over the continent will use AFRIWOOD as an opportunity to strengthen ties with new customers, network and catch up on the latest technologies. Being a highly specialized show, AFRIWOOD provides an excellent opportunity for local and international companies to showcase and learn about wood and to build new strategic relationships with buyers, traders and investors globally.
AFRIWOOD 2017 is a meeting ground for Manufacturers, Importers, Traders, Distributors, Converters and end- users in the wood industry. Launching New products and Latest technologies are the highlights of AFRIWOOD 2017. Exhibitors from East Africa and abroad will be displaying their products and around 12,000 trade visitors are expected to be AFRIWOOD 2017.