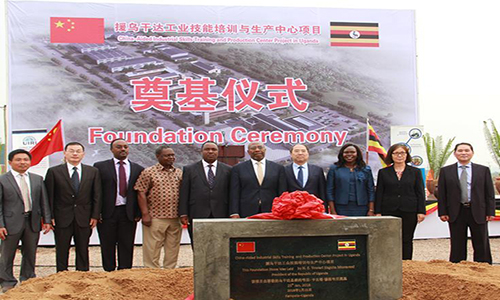 Photo by Xinhua
Ugandan Prime Minister Ruhakana Ruganda, on behalf of President Yoweri Museveni, launched the groundbreaking ceremony for the construction of the project, dubbed machining and manufacturing center, at the Kampala Industrial and Business Park in Namanve.

Museveni in a speech read by Rugunda said the center, the first of its kind in Uganda, will help in two key pillars of appropriate technology, human capital development, boosting industrialization.
"The project we are launching today is intended to address the appropriate technology and skilled manpower by introducing modern methods and practices for machining and manufacturing," said Museveni.

Museveni said the project will address skills in mechatronics, which combines technologies of mechanics, pneumatics, hydraulics, electronics, information processing, basic electricity, motor and motion control.*

He added that facility will help in computer numerical control technology for manufacturing tools and equipment and precision machining, where machine tools such as lathes, milling machines, grinders, and drill presses, are used to produce precision metal and non-metal parts.

Zheng Zhuqiang, Chinese Ambassador to Uganda, said the project, which is an outcome of the 6th Forum on China-Africa Cooperation (FOCAC), will help Uganda address the youth unemployment and promote development.

"It is hoped that this center in future can introduce modern manufacturing technology to the local enterprises and equip the Ugandan youths with key industrial skills, through which the center could contribute to the national development plan of Uganda and improve the Ugandan people's well-being," said Zheng.

Unemployment rate in Uganda rose to 2.28 percent in 2016 from 2.15 percent in 2015, according to Uganda's Bureau of Statistics.

The project is being implemented by Uganda Industrial Research Institute (UIRI), on behalf of the government of Uganda and sits on 15 acres of land provided by the government through Uganda Investment Authority (UIA).The construction commenced on November 30th, 2017 and is slated to be completed in two years.