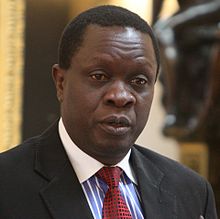 Dar es Salaam — The minister for Industry, Trade and Investment, Mr Charles Mwijage took the government's industrialization agenda to a local company at the weekend, urging it to embrace the drive and manufacture products that meet needs of both industrial and domestic users.
Gracing an event to present grand prizes to winners of a three-month 'Simtank sell and Win campaign' in Dar es Salaam, Mr Mwijage urged the manufacturer of the water storage equipment -Silafrica (T) Limited - to cope up with the government industrialization initiative.
"Silafrica needs to continue unleashing new markets and respond to customers' needs by manufacturing Simtank units that can cut across both industrial and household use", he said.

This comes at a time when the country has adopted its second Five Year Development Plan (FYDP II) which seeks to nurturing industrialisation as a drive towards transforming Tanzania's economy.
Under the FYDPII, Tanzania will require a total of Sh107 trillion which will be sourced from both public and private sectors between financial year 2016/2017 to 2020/2021.
The utmost goal will be to accelerate the rate of economic growth from the current seven to 10 per cent come 2020 and bring the per capita gross domestic product (GDP) from $1,006 presently to $1,500 in the year 2020.
According to the Silafrica (T) Limited country head, Mr Alpesh Patel said, this year's fortune went to Mrs Fatina Said of FMJ hardware and Mr Rama Jurijs from Kamata Co. Ltd who won in the campaign's first and second categories respectively.
The two winners received one car each. Mr Mwijage asked Simtank dealers to make it possible for village dwellers to have water storage units which are far modern and durable to the traditional pots made of clay soil.
While addressing the winners, the minister inquired Silafrica to come with a program to educate people on how to collect and store water during rainy seasons so that they couldn't run out of water during dry seasons.
According to Mr Patel, the campaign was deliberately designed for the company to show gratitude and appreciation to its dealers for their loyalty and sales efforts.