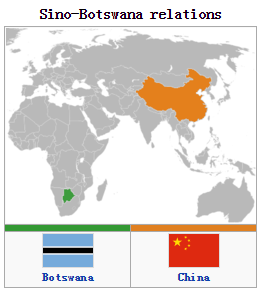 Relations between Botswana and China remain excellent and mutually beneficial with the development of these two nations.
President Lt Gen. Dr Seretse Khama Ian Khama on Tuesday received letters of credence from the new Ambassador of China to Botswana, Mr Zhao Yanbo. In an interview, Ambassador Zhao said Botswana's diplomatic relations with China were established 41 years ago and their bilateral relations have grown from strength to strength.
Beginning in the 1980s, economic and commercial relations expanded rapidly between the two countries. In 2008, the total trade volume between Botswana and China was nearly 360 million US dollars. From January–October 2009, trade volume still totaled 193 million in 10 months despite the worldwide 2008 recession.In February 2009, Chinese officials urged Botswana to further expand economic relations, specifically in Botswana's crucial diamond industry, citing growing Chinese demand for diamonds in the face of lessening demand in the other large economies.
Since the first Forum on China Africa Cooperation in 2000, the Chinese government has successfully delivered $129 million in development finance to Botswana.Of that total, only $52 million falls under the OECD-DAC criteria for Official Development Assistance. The Exim Bank of China provided the rest of the financing to Botswana to fund the Lethlhakeng-Kang road project.
He mentioned that Botswana and China had also maintained close and friendly cooperation in international affairs, saying they shared deep traditional friendship and had mutual respect and equal treatment for each country.
He also stated that the cooperation between the two countries in trade, culture, education, health, and wildlife conservation had produced fruitful outcomes.
"Our cultural and people to people exchanges have flourished, our friendship, deeply rooted in the heart of our people, has delivered benefits to the people for both countries," he said.
Ambassador Zhao said he arrived in Botswana on November 16 and had already visited places such as Serowe and Palapye, saying he had already fallen in love with Botswana. He mentioned that the deepest impression that he had had so far was the friendly and cooperative relationship between China and Botswana, adding that it was a profound and solid foundation.

He further pointed out that he was also deeply impressed by the friendship and the goodwill feelings of Batswana towards the Chinese people, saying therefore he was confident about an even brighter and broader future of China and Botswana relations.
Furthermore, Ambassador Zhao stated that China attached great importance to developing relations with Botswana, adding that they were ready to work with Botswana to implement the outcomes of the Johannesburg Summit of the China Africa Cooperation Forum that was held last December.
He said China had pledged to further advance the implementation of China Aid projects that were inclusive of Mopani primary school, Kazungula primary school and Gaborone Youth Sports Centre in Phase 11, also adding that they would positively consider the cooperation list provided by Botswana.
He also said he would work on projects that diversified the economy such as the North West Water Carrier and the Innovation Hub. Ambassador Zhao indicated that he would do his best to facilitate China- Botswana exchanges and cooperation across board and also deepen the understanding and friendship between the two countries.
Ambassador Zhao also extended his 'warmest' congratulations to Botswana on its notable achievement in the past 50 years and wished the country greater accomplishments in the coming years.