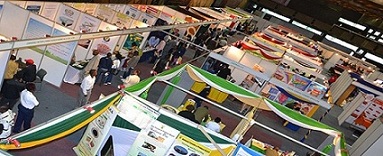 Introduction:
The 6th Annual Uganda Hotels & Restaurants Expo Exhibition is highly relevant to all companies actively involved in all areas relating to showcasing solutions for the benefit of East Africa.
By participating as an exhibitor you have an opportunity to promote your company to business counterparts, international investors, buyers and governments in East AFRICA. This showcase will provide a platform for companies to demonstrate their commitment to provide the much needed solutions and services that will enable the East Africa to embrace the challenges arising from current and future Hospitality and Tourism demands.
Its is an Annual event, a 3 days premier show Organised by the Uganda Hotel Owners Association (UHOA) , UTB, MTN Uganda and the Kampala City Council Authority K C C A that uniquely showcases & brings together Uganda's Cultural diversity , the hospitality industry, Vast Businesses, Suppliers, purchasers from all walks of Life and tourism investment opportunities available. The Biggest business Exhibition that brings together all Tourism Stakeholders, Hoteliers, different Businesses and Service Providers along the Hospitality and Tourism value Chain locally and Internationally. Promoting and providing that marketing platform for Businesses/ Service Providers who coexist with Hoteliers, Tour Operators and above all the General Public.
Exhibition categories:
Bar / Kitchen Counters and Accessories, Bathroom Accessories, Foodservice and Hospitality Consulting, Hospitality / Culinary Institutes,Hotel / Restaurants Owners, Tour Companies / Resorts / Safari / Cafe Management, Importers / Distributors / Wholesalers – Hospitality Equipment & Supplies, Interior Design / Furnishing, Serviced Apartments Management, Ingredients and Seasonings, Beverages / Drinks / Food Dispensing Machines, Catering / Foodservice Equipment, Cleaning / Washing / Waste Disposal, Engineering Services / Fittings, Food Preparation Equipment & Accessories, Food Processing / Cooking Equipment and Accessories, Housekeeping Products, Ice Cream Machines, Ice Making Machines, Laundry Equipment and Accessories, Stainless Steel Cookware, Storage / Carts / Trolley, F&B Logistics / Transportation, POS and software service providers, Internet service providers, Rental Cos–Audio, Visual, Tents, Toilets etc
Show Time:
6th-10th September2018

Open To:
Trade Visitors
Venue:
PEOPLE'S SPACE HOTEL AFRICANA, KAMPALA - UGANDA