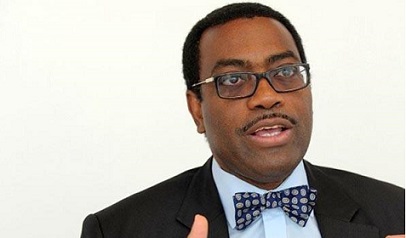 Photo from newtimes

kinwumi Adesina, as the President of AfDB, made a speech at the 2018 Agricultural and Applied Economics Association (AAEA) Annual Meeting held in Washington, D.C. He concentrated on the function of new technology in agriculture so as to release the new source of wealth in Africa.
Adesina said the technology transfer was needed immediately and that evidence from countries like Nigeria demonstrated that technology plus strong government backing was already yielding positive results.
"The challenge is a lack of supportive policies to ensure that they are scaled up to reach millions of farmers," Adesina said. "All it took was sheer political will, supported by science, technology and pragmatic policies...Just like in the case of rice, the same can be said of a myriad of technologies, including high-yielding water efficient maize, high-yielding cassava varieties, animal and fisheries technologies."

The African Development Bank is mulling ways on how to boost output and is currently working with partners such as World Bank, the Alliance for a Green Revolution in Africa (AGRA) and the Bill and Melinda Gates Foundation. This is with an aim to mobilize US$ 1 billion to scale up agricultural technologies across Africa under a new initiative called Technologies for African Agricultural Transformation (TAAT).
TAAT is taking bold steps to bring down some of the barriers preventing farmers from accessing the latest seed varieties and technologies to improve their productivity. "With the rapid pace of growth of the use of drones, automated tractors, artificial intelligence, robotics and block chains, agriculture as we know it today will change," the President said.
Adesina used the opportunity to advocate for African universities to adapt their curriculum to enable technology-driven farmers and to focus on agribusiness entrepreneurship for young people, emphasizing the need to rise beyond theories to application.
Through its innovative Enable Youth initiative, the African Development Bank has in the past two years committed close to US$ 300 million to develop the next generation of agribusiness and commercial farmers for Africa.