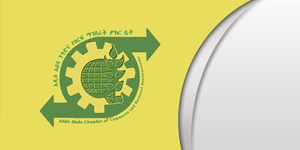 Photo by addischamber.com
By Mengisteab Teshome
The Addis Ababa Chamber of Commerce and Sectoral Associations (ACCSA) said raising members awareness of the country's investment opportunities would help bridgeherald decision making gaps.
Opening business forum on opportunities, production and marketing of major agricultural chemicals Wednesday, AACCSA Secretary General Getachew Regassa indicated the forum attached increased focus on available opportunities in the major agro-chemical industry.
AACCSA is engaged in assisting pertinent business owners to engage in demand-driven investment, he said, adding: "We also promote trade and investment in a bid to creating business friendly environment and vibrant private sector, working in partnership with government, business community, development partners and other stakeholders.
The Addis Ababa Chamber of Commerce and Sectoral Associations (AACCSA) promoted a project called Agri-business Support Facility (ABSF) with a financial and technical support by the Embassy of the Kingdom of the Netherlands. The ABSF will promote agribusiness opportunities in Ethiopia to investors foremost in the Netherlands but also in the EU. Both Ethiopian and foreign agribusiness entrepreneurs will have access to its services.

Ethiopia's economy is chiefly agricultural, with more than 80% of the country's population employed in this sector. The size of Ethiopia's livestock resources is the largest in Africa and the tenth largest in the world. While the contribution of the livestock industry to the country's total exports is currently low compared to its potential, this sector holds great promise as a source of export diversification for the future. Other parts of this sector with substantial opportunities for new investment include: plantation crops (such as tea, coffee and tobacco); production and processing of oil crops and cotton; fish farming; horticulture and floriculture (fruits, vegetables and flowers); livestock and poultry; and forestry and forest by-products. Although Ethiopia lies within the tropics, temperatures range from a mean annual high of 86 degrees Fahrenheit to a mean annual low of 50 degrees Fahrenheit.

According to Getachew, AACCSA has been working with experts and researchers to provide business owners with opportunities of producing and marketing major agricultural chemicals.

Researcher Feleke Borga said for his part Ethiopia is net importer of the agro-chemicals, fully dependent on international producers despite attractive incentives and huge production potential.
According to Feleke, Ethiopia had imported 341,000 ton fertilizer worth 5 billion Birr in 2014, eight per cent of national GDP."Investors will be profitable if they engage in this sector for it has high demands. And farmers and enterprises won't be exposed to purchase any argo-chemical that completes its shelf life too," Feleke said.
High agro-chemical demand, availability of raw materials/ inputs, quick and high rate return, and availability of different kinds of government incentives make agro-chemical production and supply investment attractive, he added.