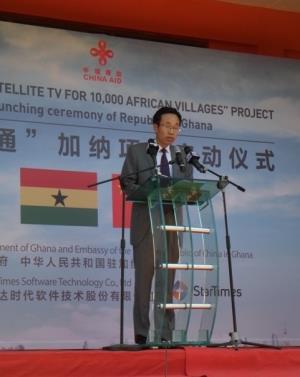 Photo from Internet

Mr Shi Ting Wang, Chinese Ambassador to Ghana, has said China intends to offer $60 billion to selected Africa countries, including Ghana.

He said the funding would cover eight strategic initiatives on industrial promotion; infrastructure connectivity; trade facilitation; green development; capacity building; healthcare; people-to-people exchange; and peace and security in the next three years, and beyond.

Ambassador Shi said this on Wednesday, at a ceremony at which the Ministry of Communication, in collaboration with StarTimes, a Chinese multinational media company, launched a 300-village access to satellite television (TV) project to provide needy communities with digital electronic gadgets.

He said: 'With the guarantee of the ... mentioned initiatives and funds, we firmly believe that the China-Ghana and China-Africa cooperation will open up broader prospects'.

He said China would fully honour the promises it had made to some African countries and emphasised that China's was sincere about its pledge to aid the continent's progress in diverse ways.

The Chinese President was emphatic that China valued sincerity, friendship and equality in pursuing cooperation with Africa.