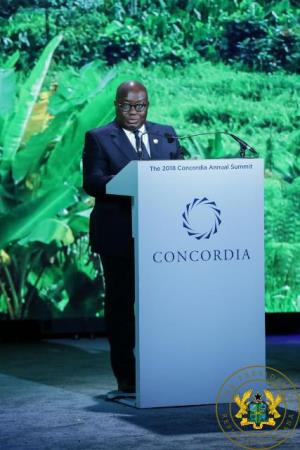 Photo from Internet

Ghana's modest economic transformation over the past 20 months has generated the keen interest of the global business community to do business in Ghana.

Delivering an address at the US-Africa Business Centre, where he received the 2018 Outstanding Leader's Award, he said the modest successes his government had chalked in transforming Ghana's economy, was being recognised by the multi-national companies, that were now eager to engage with Ghana.

The President said his government's overarching goal to diversify the Ghanaian economy, from being a producer and exporter of raw materials to adding value to its exports, continued to receive major boosts from major multi-national companies seeking to invest in Ghana.

He stated that the decision by two global car giants, Volkswagen of Germany and Sinotruk of China, to establish assembly plants in Ghana, with the intention, in the medium term, of producing their vehicles in the country, was a case in point.

'Tech giant, Google, has also decided to base its African Artificial Intelligence Centre in Ghana, which will make it the first in Africa. ExxonMobil has also signed an agreement with the Ghana National Petroleum Corporation (GNPC) to undertake deep-water oil exploration and production.

The rapid enhancement of foreign direct investment is an essential ingredient in realising Ghana's vision.