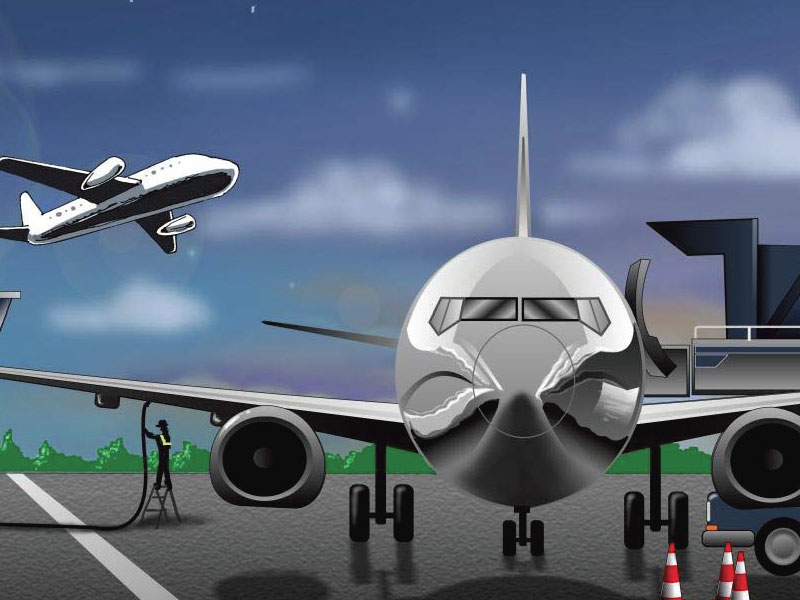 Image from Thisdaylive
A day was dedicated to aviation at the event and the theme of the aviation day was: "Is Aviation in Africa Making Progress or in Decline?" which looked at how well African governments and airlines were able to harness the huge potential provided by the aviation industry in the region.

According to the International Air transport Association (IATA), aviation already supports 6.9 million jobs and more than $80 billion in gross domestic product (GDP) across Africa. The world body said implementing the Yamoussoukro Decision (which is open sky for Africa, now replaced by SAATM) would transform intra-African air connectivity.

IATA noted that the additional services generated by intra- African liberalisation between just 12 key markets (countries) would provide an extra 155,000 jobs and $1.3 billion in annual GDP. This would also provide a potential five million passengers a year. IATA said these potential five million passengers are being denied the chance to travel between these markets because of unnecessary restrictions in the establishment of air routes, according to a research carried out by Inter VISTAS.

Other issues were deliberated upon at this year's Akwaaba and these included interconnectivity in Africa and the challenges of implementing the SAATM among nations, African carriers and the challenge of profitability, the relationship between infrastructure and passenger growth in Africa sand regional disparity and market share distribution in Africa.

Lucrative African Market
IATA's Regional Head for Airline and Relations, Africa and Middle East, Funke Adeyemi said that intra-African routes are lucrative and that there are under served markets that Nigerian airlines could take advantage of.
"An airline that is operating across Africa could testify about the goodness and sweetness of the SAATM. Let us talk about what it is, it is a policy decision taken by African heads of states, designed to ensure that Africa is integrated. And this is in line with African Union vision for Africa, to see regional integration, prosperity and mobility across Africa.

"Now why does aviation play such a key role? And why did the Africa Union start with aviation as its flagship project? I think it is fair to say that aviation is the fastest means of transportation across borders in the world. You can travel by ship, you can travel by road, you travel by rail but aviation is the one that can take you there the fastest. And aviation can travel anywhere in the world within a 24-hour period. Why is this important for Africa? Africa is one of the largest land masses in the world. So what you see on the land is not the reality," Adeyemi said.
She noted that the map of Africa reveals the reality of the vastness of Africa but noted that it is easier to travel to Europe from Africa than to travel from one part of Africa to another. So this explained why aviation is necessary in Africa because it takes about eight hours to travel from Johannesburg to Dakar, while it takes a passenger six hours to travel from Lagos to London.

"Now going to the issue of the SAATM as I said it is designed to ensure that there is integration and connectivity among African states and supported by operations of African airlines. So I need to emphasise this, SAATM is about Africa, for African states and African airlines. And the idea behind this is to ensure better co-operation among the states first at the bilateral level and amongst the airlines in terms of commercial cooperation between themselves as African carriers. So this is something designed for Africa and meant to be deployed for Africa by Africa.

Connections across Africa
Adeyemi wondered why African airlines have not seen this great connection across Africa and explained that it was because the airspace over the state, is a sovereign property of that, so the state has the right to go and negotiate with another state, who can come into their country, how many times that airline can come into their country because it is their sovereign right.

In other words, the states create literally walls through immigration and restriction in the airspace, which serve as impediment to the free movement of passengers from one country to another, as it is done presently in Europe.
"Let me illustrate what I mean; is it necessary for every African state to have an airline? No. what the single African skies is trying to do is that there are appropriate air services across Africa that are done by different African airlines, and they don't have to be from your own country. Let's give some examples of where we are starting to see this. Ethiopian Airlines and Asky, they came to an agreement, Ethiopian said they will do technical partnership and that technical partnership will see Asky setup a hub in West Africa and operate within West Africa.

"West and central Africa is notorious for the least connected in Africa. It is not Ethiopian airlines per se; but it is another entity run with different stakeholders involved. And what happens, they started operating within West Africa, people started to benefit. So it wasn't that they invited Lome, there is no Lome Airways, it is Asky operating out of Lome," Adeyemi said.

SAATM
Adeyemi said SAATM allows an African airline to go to another country and set up a base. For example, Rwand Air is setting up a base in Benin Republic and Ethiopia Airlines has started doing this across Africa and in the same vein, a Nigerian airline can set up base at any place, like in Niger Republic, in Congo, Sierra Leone, Liberia or any other country.

"What is stopping other airlines from doing the same thing? Ghana doesn't have a Ghana Airways but they have opened up their market, giving fifth freedom rights to all African carriers that want to come in there. Today Ghana has better connectivity out of the continent. So that is what the single African market is intended to do. And the idea behind that is that African countries open up their market to each other," she said.

Taxes and Costs
Adeyemi said it is expensive to travel across Africa, stressing that it is 45 per cent more expensive to fly across Africa than it is in any other part of the world. She said that IATA is trying to solve this problem by making governments in Africa to understand that air travel is a necessity, not luxury and that the policy of these governments is undermining the potential air travel market in the continent.

"The world travel statistics was released this year and over 4.1 billion passenger travelled by air. That is over half of the world population, that is mass transit. So how can aviation be seen as a luxury? And for Africa in particular aviation is supposed to be doing that job. We have the same population as a continent as India as a country. Aviation is the biggest means of transportation in India; in the China it is the same thing. That is what is supposed to happen in Africa, it is supposed to be a mass transit, to allow people and goods to move freely. And what that does is that it facilitates business, trade, economic development, prosperity etc."

She said one of the reasons why governments impose taxes on aviation is because aviation is an organised industry in terms of safety, security, passenger facilitation and even on how we collect money. So it is easy to collect money from aviation.

Another reasons why governments levy taxes on the aviation industry is because it is seen as an elitist industry.
"What is the big deal in putting $10 on a ticket? Well, the big deal is that $10 is the difference between somebody flying or not flying. And so if you make it a disincentive for people to fly then the industry will not grow.

Bridging Connectivity Gap
Former Managing Director of the Federal Airports Authority of Nigeria (FAAN), Richard Aisuebeogun lamented that it is due to lack of connectivity among African countries that sometimes to get to some destination in African, from Africa; you have to travel to Europe to connect flight back to Africa.

"Some 10 years ago my team and I needed to travel to Bamako, Mali. To get to Bamako we had to fly out of Africa to France and then flew back from France to Bamako. When we are done we thought on how to connect Bamako back to Lagos, of course there was nothing we could do than to fly back to Paris and then to Lagos. That wasn't a good experience because ordinarily, the flight could have taken us close to four and half hours if we had flown directly but it took close to 24 hours to get to our destination.

"Over the years the governments in Africa have seen all of these difficulties and challenges in air transports system but possibly because they need to guard their airspace jealously, they have refused to loosen up and let air transport market become a regional thing. Over the years, also African air transport market has developed various regional policies with regional initiatives. For instance the Banjul Accord, Yamoussoukro accord, the Cape Town Convention which also allows the operators of the airlines to be able to own ownership of the aircraft and in the case of a default the lessor will be able to take back the airplane. All of these initiatives were developed in the last 20years and 25years to guarantee seamless air transport in Africa but it has all failed because of government policies in each of the 55 countries of Africa," Aisuebeogun said.