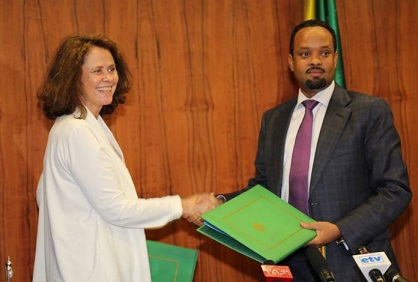 Photo from Internet

The World Bank Board of Executive Directors has approved that it scales up support to accelerate Ethiopia's economic development with a total of 1.35 billion USD grant and credit for the country.

Finance Minister Ahmed Shide and Carolyn Turk, World Bank Country Director for Ethiopia have signed the agreement today.Out of the total financial support obtained from international Development Association (IDA), 600 million USD is in grant and 600 million USD in credit, it was learned.

Ethiopia has been provided with 150 million USD of the 293 million USD approved by World Bank Group (WBG) to boost regional integration and technical training in East Africa.

Minister Ahmed reiterated "the budget support operation that the World Bank financing is well aligned with the policy orientation and direction of Ethiopia's development program for the coming years."He added this is a year of reform and the government will continue to advance and consolidate reform agenda.

"Going forward, the Ethiopian government will continue to prioritize structural economic transformation, accelerate and inclusive economic growth, development of the private sector, creation of more jobs, and building resilient economy," Ahmed pointed out.

Speaking of the 150 million financial supports, the Minister said "it will be used for the development of specialized TVET programs at diploma and degree levels targeting regional priority sectors in transport, energy and manufacturing."

She added that it will support the government's programs and planned reforms with a focus on maximizing finance for development, improving investment climate, and promoting transparency and accountability.