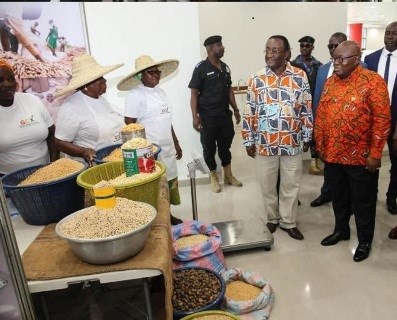 Photo from Internet

Ghana president on Tuesday launched the Ghana Commodity Exchange (GCX), a platform to create an efficient, fair, transparent and ready market for agricultural produce.

The GCX, the first modern commodity exchange in Ghana and West Africa, is aimed at establishing linkages between agricultural and commodity producers and buyers, and allow them to trade in quality and standardized produce to enable them obtain the full measure of their wealth.

Speaking at the launch in Accra, President Akufo-Addo said GCX would be one of the key drivers of realizing his government's vision of becoming the agricultural hub of West Africa.

He said though Ghanaians farmers are responsible for feeding a nation of some 29 million people, they were not assured guaranteed incomes for their labour and efforts.

"On their own, some of them have to deal with commodity price volatilities and many possess little to no knowledge of the true value of their produce. Even worse is the fact that most transactions in the agricultural sector are conducted by word of mouth or handshake agreements. Most often, there are no formal contractual agreements in place, resulting in trade disputes which undermine our marketing system," he said.

The non-existence of a national system for weighing and standardizing of the quality of commodities, the President noted, had given rise to the employment of costly solutions and alternatives in dealing with the major concerns of the industry.

With agricultural super-powers employing better ways to address these problems and satisfy both the producer and the buyer, he said it is time for Africa to focus on creating formal market institutions.