FDI in Figures


Uganda is one of the East-African countries that attracts the most FDI. FDI stocks have increased steadily since 2000, a trend that is expected to continue over the coming years. Despite this progress, Uganda ranks 122nd out of 189 countries in the Doing Business 2016 report issued by the World's Bank, up 27 spots from the previous year.

The five-year programme (National Development Plan - NDP), established by the Government in 2010, has begun to bear fruit. The plan, which aims to expand the country's agriculture sector and infrastructure, has allowed the country to increase the budget allocated to the energy sector three-fold. It also aims to provide the country with hydro-electrical power stations and an oil refinery connected to a large distribution network. An increase in the rate of investments, in particular in the construction sector, is to be expected with the planned construction of a pipeline to the coast of Kenya. 

These projects should allow Uganda to double its energy production by 2017. However, in the meantime, critical infrastructure problems remain and 15% of the population lacks access to electricity. In addition, a weak education system as well as a weak communication network are obstacles to the improvement of the investment climate.


Uganda is rich in natural resources; FDI mainly goes to the coffee and mining sectors. Kenya, Germany and Belgium are the country's main investors.


Tax Rates


Value Added Tax (VAT) :18%
Company Tax :30%
Withholding TaxesDividends: 15%,
Interests: 15%, Royalties: 15%.
Bilateral Agreement : Uganda and Spain are not bound by a Double Taxation Agreement.
Social Security Contributions Paid By Employers :10%
Other Domestic Resources: Consult Doing Business Website, to obtain a summary of the taxes and mandatory contributions.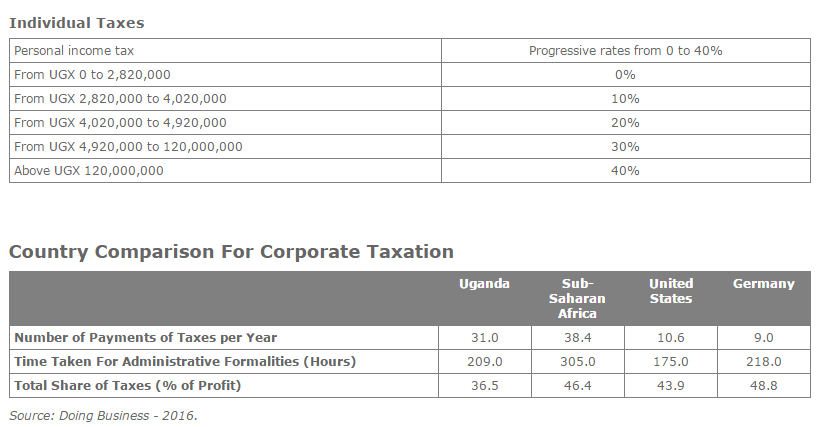 Investment Opportunities
Tenders, Projects and Public Procurement

Fontier Market Network, Tenders in Africa
African Tenders
African Development Bank Group, Public Oversight Body
DgMarket, Tenders Worldwide


Setting Up a Company

Consult Doing Business Website, to know about procedures to start a Business in Uganda.


Useful Resources

Uganda Investment Authority
Economic Developments and Prospects in Uganda - African Economic Outlook
Contact the Spanish Embassy.
Contact the Embassy in Spain.
Uganda Trade Portal
Business Portal for Africa