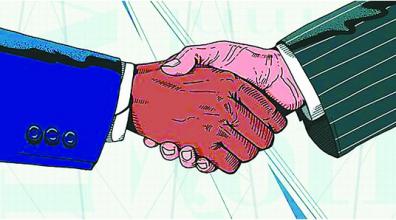 More than 200 Chinese and African companies met in Guangzhou, China, on 14 December to explore business and investment partnerships in the agro-processing and light manufacturing sectors.
In Africa's price-sensitive marketplace, telecommunications infrastructure, for example, has become very reliant upon Chinese technology, which is competitively priced, durable and enjoys strong back-up service compared to its Western competitors. Similarly, Chinese construction companies are able to overcome difficulties and deliver roads and bridges on budgets that cannot be matched by Western or even local companies.
The level of China's investment in Africa is increasing fast. However, China's total investment in African countries remains lower than that of many developed countries. Investments are also largely focused on large projects in a few sectors, including mining, oil and infrastructure.
From Africa's perspective, Chinese investment – especially in basic infrastructure – is more than welcomed. It is estimated that Africa suffers from a $900 billion infrastructure deficit: without potable water, all-weather roads, adequate power and reliable communication, African economies cannot thrive. China's focus on basic infrastructure investment will lay the groundwork for children to be able to go to school and businesses to trade. But China's arrival will bring challenges. 'Made in China' products over the past two decades have had a devastating effect on local manufacturing. For example, textiles from China have decimated the once thriving textile industry in South Africa.
However, African countries such as Ethiopia have recently seen the benefits of rising investments by Chinese manufacturers. Huajian, a Chinese shoe producer, has increased its employment from the initial 600 to 3,500 in a few years. Despite shortcomings of Chinese firms that engage in poor labor and environmental practices and the competition they bring to indigenous companies, growing Chinese investments, so long as Africa grasps the opportunity, will provide a net positive gain for African economies and people in the coming decades.

The Business Partnership Event brought together African and Chinese companies looking for joint ventures and foreign investors to scale-up their businesses. Chinese companies explored opportunities in Africa during bilateral meetings, largely untapped by Chinese investment, which can help spur local economic development and job creation.
Chinese and African companies initiated investment deals during more 300 one-to-one business meetings. A Chinese company will provide wood processing equipment to a Kenyan enterprise, while exploring possibilities to import processed wood products from the same company. Discussions have been held to set-up an agricultural university in Africa with Chinese funding.
African companies have already arranged immediate follow-up company visits to continue discussions on technology transfer, research and development, supply of manufacturing equipment. Some will extend their stay in China to visit Chinese companies and potential investors met during the event. Chinese companies also confirmed they already plan to visit companies in Africa to further study investment opportunities identified during the B2B event organized by ITC.
PIGA aims to help materialize the business deals initiated through capacity building of African institutions and companies, investment promotion, support to investors, public-private investment platforms.
The event was opened by Ms. Zhu Lingyan, Deputy Director General, Department of Trade and Investment Promotion, China Council for the Promotion of International Trade (CCPIT), Mr. Wang Yong, Vice President, China-Africa Development Fund (CADFund), Ms. Karen Maddocks, Deputy Consul-General, British Consulate-General in Guangzhou and Mr. Ashish Shah, Director Division of Country Programmes, International Trade Centre (ITC).
It was organized by the International Trade Centre (ITC), the China Council for the Promotion of International Trade (CCPIT), the China-Africa Development Fund (CADFund), and the United Kingdom's Department for International Development (DFID) in the framework of the Partnership for Investment and Growth in Africa (PIGA), a joint UK-China partnership to increase sustainable economic growth in African countries.
African companies also benefited from a dedicated training seminar to effectively interact with Chinese investors, delivered by experts from CCPIT, the China Britain Business Council and ITC. China's Huajian Company and Jihai Company, as well as Basan Electronic Manufacturing and Maintenance, an Ethiopian firm, shared their practical experience investing in Africa or receiving investment from China.
A visit to Shenzhen Special Economic Zone (SEZ) allowed African participants learn how Chinese companies operate, export and establish business partnerships in foreign markets. This showcased a major success story in establishing special economic zones and export processing zones attracting foreign direct investment, creating business growth and increasing jobs.