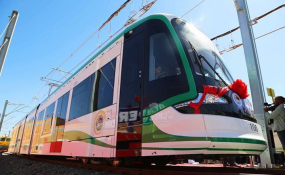 Photo by Tedros Adhanom Ghebreyesus

Addis Ababa — Ethiopia and China have been cooperating in various development areas, benefiting the people of both countries, and such cooperation would be a model for bilateral relations between countries, Ethiopian finance minister said on Thursday.
Abraham Tekeste, Ethiopian Minister of Finance and Economic Cooperation, made the remarks during a handing over ceremony of a hydropower project dubbed Aba-Samuel Hydropower Plant Rehabilitation Project, which has been financed by a grant from the Chinese government. "I would like to thank the People's Republic of China and people of China for continuing to support Ethiopia's development vision," said Tekeste.
Since the establishment of diplomatic ties in 1970, and even more following the start of the Comprehensive Cooperative Partnership in 2003, China-Ethiopia relations have developed rapidly. They have now reached their highest qualitative level. The leaders of the two countries have established close working relations and a personal friendship.

Reiterating that Ethiopia and China have been cooperating in different fields, including in infrastructure development and industrialization, which are critical to sustainably transform the country's economy, the minister said, "The cooperation between Ethiopia and China is an exemplary one."
"Investment in transport infrastructure and in clean energy is critical for driving industrialization, for driving export development, and thereby transforming the Ethiopian economy," he said, "China's support in this regard is fundamental, very important."
Stating that Ethiopia and China cooperate based on the vision that the two countries have for their own people, Abraham said, "The cooperation mutually benefits both Ethiopians and people of China. So, in this regard, it is an example, a model for cooperation, for bilateral cooperation between countries."
With regard to the power rehabilitation project carried with the grant from China, the minister said it is one of the various projects under the Ethio-China cooperation in different sectors. "The cooperation in the project demonstrates the commitment of the People's Republic of China to support our endeavor in transforming our economy," he said.
Between 2003 and 2013, the yearly volume of bilateral trade between China and Ethiopia increased by more than 13 times. China has become the biggest foreign investor and the largest trading partner of Ethiopia. Ethiopia is now one of the main markets in Africa for Chinese products, equipment, technology and investment. Since 2006, China, through various mechanisms, has provided a large amount of financial support for the construction of a number of Ethiopia's mega projects.