FDI in Figures
The Government has committed itself to a programme of economic reforms and liberalisation. However, it continues to control the services sector, with a state monopoly on the telecom market and virtually full control by local banks in the financial sector.
There are a number of constraints to foreign investment, namely the high interference of the State in the economy, poor condition of infrastructure, difficulties related to land acquisition, strict foreign exchange controls, very high transaction costs and weakness of institutions. The Government's interventionist policies, which are not focused on developing the private sector, have also proven to be a considerable obstacle.
However, significant progress has been made in terms of transport infrastructure and electricity production in order to improve Ethiopia's attractiveness. For the last ten years, China has been increasingly investing in the country, especially in the construction, textile, electricity and telecommunications sectors (in 2013, large investments were made in this sector). Ethiopia ranks 146th (out of 189 economies) in the World Bank's Doing Business 2016 report, an increase of two positions over the previous year, mostly due to improvements in resolving insolvency.
Agriculture (particularly horticulture) and leather goods are the sectors attracting most FDI. Agricultural land renting also brings in foreign investors. Moreover, the country took advantage of the crisis of the Bangladeshi textile sector (following a disastrous collapse of a factory building in 2013) in order to attract foreign companies to its textile industry. The main investor countries are Saudi Arabia, China, the United States, India and Turkey.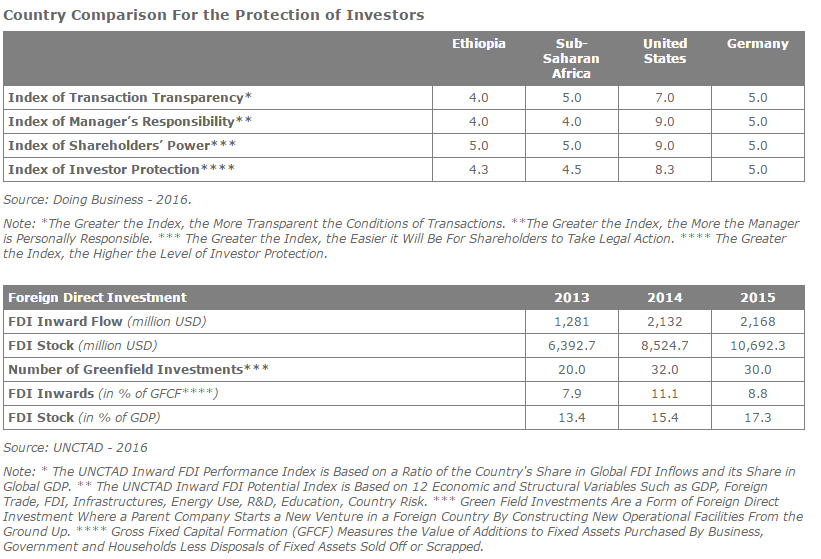 Tax Rates
Value added tax (VAT)

15%

Company Tax

30%

Withholding Taxes

Dividends: 10%, Interests: 5%, Royalties: 5%.

Social Security Contributions Paid By Employers

11% (civilian) or 25% (military). The employer's contributions also finance work injury benefits. (7% contribution paid by the employee.)

Other Domestic Resources

Consult Doing Business Website, to obtain a summary of the taxes and mandatory contributions.