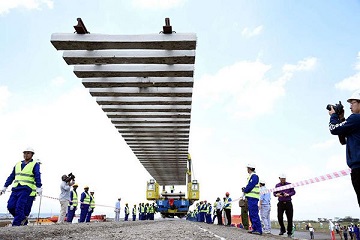 Photo from Internet

Chinese contractors have taken centrestage in the implementation of infrastructure projects in Africa, as funding by the continent's development finance institutions shrinks.

The report, released last week, shows that East African governments fund only 12.9 per cent of their projects in the region, with China and international financiers funding 25.9 per cent and 20.1 per cent respectively.

According to the report, 33 per cent of the 482 projects tracked this year were built by Chinese companies and 24 per cent by local contractors.

The majority of the infrastructure projects were in the transport sector (38.6 per cent), followed by real estate (22.8 per cent), energy and power (13.7 per cent) and shipping and ports (7.5 per cent).

According to the report, the transport sector, valued at $107 billion, represented 22.7 per cent of the continent's total spend on large construction projects, with governments and China being the two significant funders of the sector.

The report notes that although African governments continue to fund the largest share of projects, particularly in the transport sector, the Chinese influence on the continent is increasing with 19 per cent of the projects being funded by China (close to one in every five projects) followed by international development finance institutions with (13.7 per cent), and private domestic firms with (10.6 per cent).