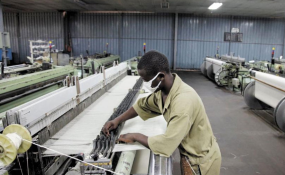 Photo by Timothy Kisambira/ The New Times
By Nasra Bishumba
The law on public procurement is set for review as one of the strategies to boost products that are made in Rwanda.
According to the Minister for Trade, Industry, and East African Community Affairs, François Kanimba, the existing law has seen imported products gain an upper hand, consequently increasing the trade deficit.
The minister was speaking at the closure of the weeklong Made-in-Rwanda trade fair in Kigali yesterday. Kanimba said the Government, being one of the major clients [of locally-made products], should walk the talk and lead by example when it comes to purchasing local products.
"The Government already decided to review the laws that govern tendering processes in public institutions so that they can clearly state that priority should go to local products," he said.
Kanimba also pledged the Government's commitment to remove obstacles that hamper locally made products.
"The commitment to strengthening the local production and market is evident in the recent decisions like scrapping taxes on heavy duty factory machines," Kanimba said.
The minister further called on the private sector to up their game saying that they too have a major role to play to ensure locally made products are available, competitive and of quality. The Chairperson of the Private Sector Federation, Benjamin Gasamagera, advised traders to help change people's mindset that imported goods are better, by improving the quality of their products and exploiting their uniqueness.
"You can achieve good quality by relying on information technology and by providing continuous capacity building programs to your employees so that in the process, you produce better products and in large quantities," Gasamagera said.
This is the second edition of the Made-In-Rwanda trade fair. It attracted 300 traders. The first ever Made-in-Rwanda expo took place in February this year.