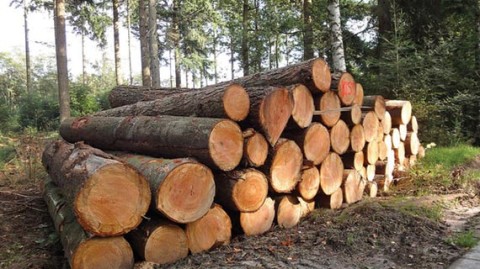 Photo by Lusaka Voice

By Kennedy Mupeseni
There is need to invest in local manufacturing of timber processing equipment to reduce importation costs the country is currently incurring, Zambia National Association for Sawmillers (ZNAS) has said.
The Zambia National Association for Saw Millers (ZNAS) is the umbrella organization representing the majority of Saw Millers in Zambia and in particular the Small Scale Saw Millers. The organization has its secretariat in Kitwe and has more than 340 members up to date mostly located in the Copperbelt Province.Most of ZNAS members are classified as small or medium scale sawmillers. The Sawmillers obtain concessions from the Zambia Forest and Forestry Industries Corporation Limited (ZAFFICO), a government owned enterprise entrusted with the management of exotic softwood plantations mainly on the Copperbelt. The actual estimates for the size of the ZAFFICO plantations vary but commonly accepted figures place them at 40,000 hectares and 10 hectares of pine (Pinus Kesiya, Pinus Oocarpa) and eucalyptus (Eucalyptus grandis) respectively.

ZNAS president William Bwalya said the association was disappointed that the country was importing simple tools which could easily be manufactured locally.
"We are at pains as an association to see that in this era we are importing simple band sawmills, timber drying kilns at huge costs, losing huge amounts of foreign exchange when we have universities which have the facility and human resource to produce blue prints for local companies to produce and supply the industry," Mr Bwalya said.
He said Zambian engineers need to be fully incorporated into the timber industry so that they can provide technical advice and produce the required machinery. Commenting on the general performance of the sector in 2016, Mr Bwalya said engineers are still not fully involved in the industry.
"The under performance of the timber industry in 2016 can be attributed to many factors but significantly the lack of machinery to effectively and competitively produce, and the non commitment of local engineers, despite their availability and capability.
"All the timber processing equipment and machinery from simple tools like handsaws to very advanced automated timber processing mills are imported and sold to a poor Zambian at unaffordable prices," he said.
He said when imported machines break down, spares still have to be imported at exaggerated importation costs while production time was lost. Mr Bwalya said it was easier for local companies to offer warranties, guarantees and discounts but for imported items it was not practical due to distance and cost.
He said the lesser attention exhibited by stakeholders and academia gives forestry and wood science a second class interest in the majority of Zambians. Mr Bwalya has since called for a national symposium to iron out challenges hindering value addition in the sector.
"We feel the Government/ Forest Department and Zambia Forestry and Forest Industries Corporation (ZAFFICO) must call for a national symposium in 2017 to pave the way forward for the timber industry. He wants the symposium to bring together interest groups involved in the development of timber and wood processing industry for the purpose of discussion and agreement on the national strategies regarding the sector.
Timber is widely used in the construction industry and there are many timber products. Here you will find manufacturers and suppliers of timber products including furniture like chairs, tables, beds, picture frames, wardrobes, cabinets and many more, ceiling boards and gutters. Most of the tree species of commercial value in Zambia are used for timber production, as construction material and for making furniture products. Others are used for charcoal production, poles, soil improvement, fodder, medicines, turnery and many other uses. Manufactures of a wide range of wood products with environmentally cost-effective wood product solutions of quality and sustainability are listed here.