FDI in Figures
Rich in natural resources and economically stable, Algeria has attracted growing levels of FDI in recent years, even if its stock remains weak. In recent years, there has been a sharp decline of European investment and a revival of interest from the Gulf investors. A re-orientation of FDI towards the domestic market is also noticeable, with the blossoming of development projects in transportation and infrastructure.
A series of protectionist measures taken by the Algerian Government, as well as corruption, heavy bureaucracy, a weak financial sector and legal insecurity in terms of intellectual property rights are obstacles to investment. For instance, the country's has introduced a 49/51 rule, which limits the participation of a foreign investor in local companies to 49%. Foreign bidders for public contracts are also now required to find local partners. The authorities are seeking to improve the investment climate, which still requires much progress. Algeria ranked 163rd out of 189 countries in the 2016 Doing Business report issued by the World Bank, which means that it has lost two places compared to 2014. Investors have also become more cautious after the 2013 hostage-taking incident at the gas site of In Amenas.
Still, the Government remains committed to its economic liberalisation policy and continues to seek foreign investment in sectors such as infrastructure, telecommunications, energy and water supply. For example, according to the National Investment Development Agency, the 2016 Finance Act could ease the use of external financing.


The development of the remaining hydrocarbon fields will require substantial inflow of FDI in the coming years. In addition, the construction of an ironworks complex began in early 2015, with Qatar holding 49% of the capital in the project, which is estimated at EUR 2 billion. The company Total is also expected to invest around EUR 168 million in a lubricants plant, with production planned to begin in early 2017.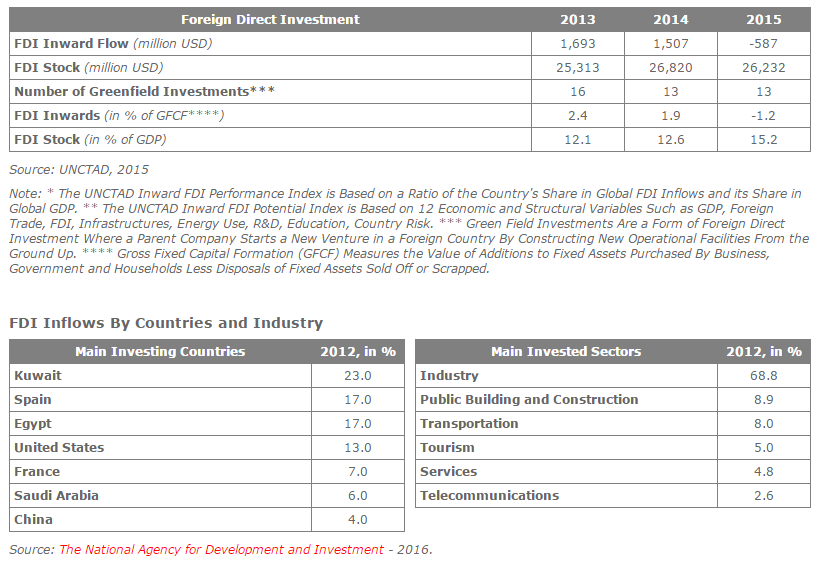 Why You Should Choose to Invest in Algeria

Algeria's strong points:

• The low cost of energy constituents (gas, fuel and electricity): industrial gas is 22 times cheaper than the European average, electricity is six times cheaper
• The workforce is skilled and inexpensive
• Recent laws to encourage foreign investments and various incentives for foreign investors
• Algeria's proximity to Europe

Algeria's weak points:

• Slow administrative procedures
• The legislation is very complex, especially tax law
• It is difficult to acquire industrial property
• The law is not always favourable to foreign investors (for instance, there is a requirement for all new investments to have at least 51% local ownership)
Government Measures to Motivate or Restrict FDI

To attract and encourage foreign investment, the Government has set up various attractive measures, including the reduction of corporate taxes for investment in specific locations, a reduction in social security contributions for new recruitments of young employees, the concession of land by mutual agreement for up to 33 years (which provide similar rights to ownership) and tax exemptions throughout the life of the project for exporting projects. For the full list of measures, you can consult these measures on the ANDI (National Agency for Investment Development) website.

At the same time, on 22 December 2008, the Algerian Prime Minister published a directive restricting foreign FDI, requiring that all new investment projects in Algeria have a local majority (51%) shareholding. This directive further stipulates that foreign investors should only revert to local financing. Finally, FDI projects will no longer come under ANDI, but under the CNI (National Investment Council), which may delay administrative procedures.