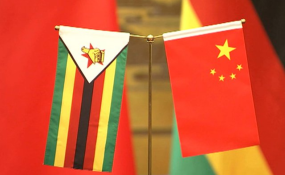 By Walter Nyamukondiwa


Wanjin is a joint venture set up between Anhui State Farms Group and Zimbabwe's Ministry of Defense aiming to improve food security in Zimbabwe. The long standing partnership between the Zimbabwe Defence Forces and its Chinese partners has significantly contributed to mechanisation and full utilisation of land as more than 2 000 hectares have been put under various crops in Mashonaland West province.
Consummated as a buffer against sanctions-induced food shortages, the Zim-China Wanjin Agricultural Development Company, has managed to put 1240ha of land under maize. At least 530ha of the total land under the maize crop is being supported through Government initiated Command Agriculture Programme.
The joint venture programme has grown in leaps and bounds from 420ha of land at inception in 2011 to more than 2 000ha. Benefiting from China's technological advances and financial injection, the company now boasts of state-of-the-art farming equipment including centre pivots, tractors, discs and harrows.
Zim-China Wanjin Company is operating at Chinhoyi's Hunyani Farm, Arda Sisi, Chizasi Farm, Krystal, Kasama and Chivero Farms, where separate arrangements have been made. The joint venture follows an agreement between the Ministry of Defence and Anhui Provincial State Farms Group of China.
One of the project supervisors, Major Tichadini Masanganise, said the project was a direct response to President Mugabe's call for the country to Look East in the aftermath of western hostilities.
"We have continued to grow because we are focused on achieving the targets we set for ourselves. "We have benefited immensely from the partnership through technology transfer and the vast experience they have in agriculture," said Maj Masanganise.
The company has so far managed to install two centre pivots at Hunyani Farm, another two at Krystal Farm and another one at Arda Sisi. It is set to take delivery of 10 other pivots for Arda Sisi from China in early 2017. All the centre pivots have the capacity to irrigate 65ha each.
Maj Masanganise said the objective was to leverage on China's advanced technology, management skills and experience to improve production and yields with the venture also into soya bean, tobacco and cotton.
At least 550ha are under soya beans, 240ha tobacco and 150ha cotton. Employing around 800 people during peak season, the company is also supporting downstream industries including suppliers of inputs, spares, oils and fuel among others.
"We have been consistent in our production levels with average yields of around 6 tonnes per hectare which we are looking at ways of improving. "However, this is the average but we manage more than that at some farms," he said.
Zimbabwe has been under Western imposed sanctions since 2000 and has been employing various interventions to reduce their impact.