FDI in Figures
Foreign investment in Kenya remains relatively weak considering the size of its economy and its level of development. This can be explained by a number of hindrances to investment, notably the country's poor-quality infrastructure, lack of security due to terrorism and an unfavourable business climate. Nevertheless, Kenya became one of the largest recipients of FDI in Africa, with FDI inflows significantly increasing since 2010. This rise is related to investments, mainly Chinese, in the mining and hydrocarbon sectors. Moreover, it is one of the most attractive East African countries to companies. A Chinese investor has launched a project to create a railroad connecting Rwanda, Uganda, South Sudan and Kenya, for a cost of nearly USD 14 billion.
According to available data, foreign direct investment to Kenya has increased significantly since 2013 (more than USD 500 million in 2013 and nearly USD 990 million in 2014). In the 2016 Doing Business report issued by the World Bank, Kenya ranks 108th out of 189 countries, a gain of 28 places compared to 2015. In 2015, Kenya simplified procedures for business creation and the transfer of ownership and improved access to credit and to electricity. In the coming years, the simplification of the conditions for obtaining business licenses, together with the development of public-private partnerships as part of the 'Vision 2030' strategy, should have a positive influence on FDI inflows.
In addition, most sectors are open to foreign investment. In recent years, the telecommunications sector has attracted the most FDI, thanks to the arrival of fibre optics in 2009-2010. The other sectors attracting FDI are banking and tourism.
The United Kingdom, the Netherlands, Belgium, China and South Africa are the main investors in Kenya.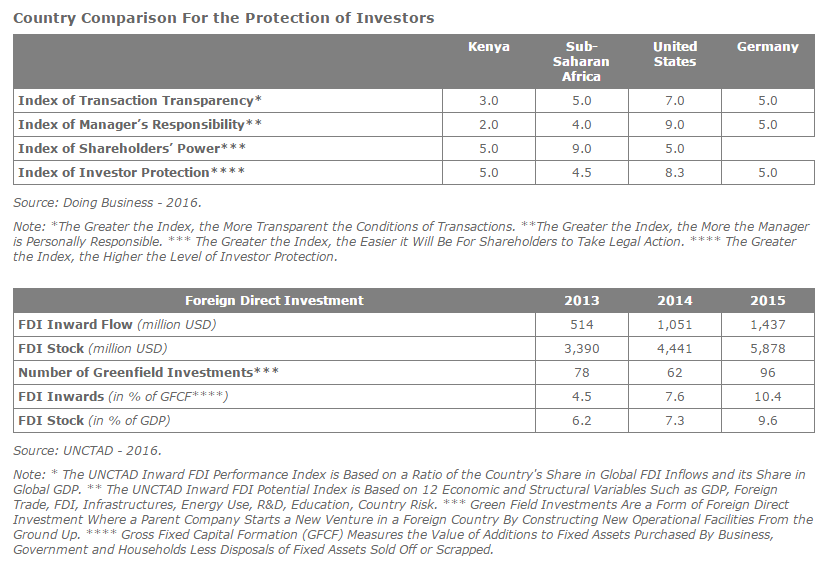 Why You Should Choose to Invest in Kenya
Kenya's economy has many strong points: it is a market economy and functions as the commercial, economic and logistic hub of East Africa; it is a regional financial center, has a strong industrial baseand well-developed road infrastructure. In urban areas, Kenya also has a young, well-educated and English-speaking population.

Among the factors that may discourage investment in the country are: corruption, slow judicialsystem, high unemployment and poverty, uncertainty over land ownership, recent security issuesrelated to terrorism and crime, interethnic tensions, costly skilled labor, high cost of energy, poor infrastructure and administrative difficulties in obtaining work permits.

Government Measures to Motivate or Restrict FDI: In April 2013, the government passed a law on public-private partnerships (PPP) in order to attract foreign investment in the infrastructure sector. The government has put in place an extensive program of privatization in various sectors such as food processing, construction, equipment,education, energy, etc. The special economic zones and export processing zones benefit fromtargeted incentives. The Mining Law has recently been amended to limit foreign participation in theoil, gas and minerals mining sectors.