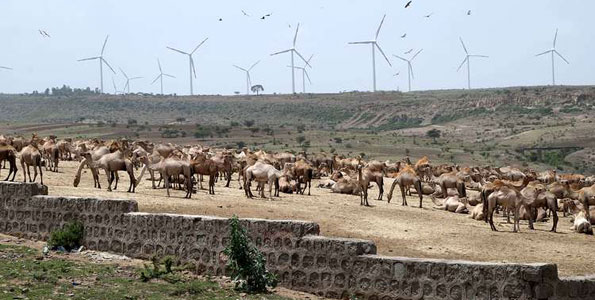 The Adama wind farm in Ethiopia. The countrycommissioned 150MW of onshore wind power plant last year, nearly doubling itscumulative wind capacity since 2010. PHOTO | AFP
By ALLAN OLINGO

East Africa's economies top countries in sub-Saharan Africa in injecting clean energy into their national grids, through new projects in wind and solar.

The latest report of Climatescope, the clean energy country competitiveness index by Bloomberg New Energy Finance, shows that clean energy policies are becoming more widely adopted across sub-Saharan Africa.

"Fourteen countries from the region have introduced renewable energy targets that saw their clean energy investment nearly double between 2014 and 2015, to reach $5.2 billion," the report says.

Kenya consolidated its standing as a global leader in geothermal energy, adding 58MW, which raised its total installed capacity to 740MW at the end of 2015.

Ethiopia commissioned 150MW of onshore wind power plant in 2015, nearly doubling its cumulative wind capacity since 2010. It is second to South Africa in terms of new installations.

In June, Ethiopia's Minister of Water, Irrigation and Electricity Motuma Mekassa told the Africa Energy Forum in the UK that the country would be tendering for a 5,200MW solar power plant, which would be the biggest project on the continent.

"We have an average daily solar radiation potential of 5.5kWh and this project will be a game changer. We have held formal discussions and we will look out for the best partner," said Mr Mekassa.

According to Bloomberg New Energy Finance, Ethiopia has this year issued requests for proposals to install a dozen additional geothermal and solar projects, introducing a competitive auction bidding process that is significant for the sector.

"Four of the new projects will be privately owned; the rest will be built under engineering, procurement and construction contracts and retained by the Ethiopian Electric Power," the report says.

More investments

South Africa was the best scoring country in sub-Saharan Africa on clean energy investments, thanks to its auction programme which saw it bag $4.1 billion of new investments last year.

It was followed by Uganda and Kenya, thanks to significant policies supporting clean energy development, healthy investment activity and a growing number of stakeholders involved in the energy sector. Nigeria also signed a $1.75 billion deal with 14 solar companies to supply electricity to the nation's power grid.

READ: Uganda switches on region's largest solar power plant

Last year also saw an increased interest from private equity and venture capital flows into off-grid solar. The report also shows that off-grid electrification companies in Kenya, Tanzania and Zimbabwe received about $80 million in new investments last year — more than four times the amount recorded in 2014.

Early this month, Kenya and the World Bank said that they were in talks to finance a $150 million solar-and-wind project. Kenya Power managing director Ben Chumo said that this was part of the government's efforts to get new capacity from renewable sources, which should bring down energy costs.

"The construction of this new plant is expected to start mid next year and will seek to replace the more expensive diesel-fuel generation," Mr Chumo said without divulging the expected power wattage of the plant.

According to data from African Development Bank, Kenya's power is the most expensive in the region at $0.18 per kilowatt-hour, compared with $0.09 cents in Tanzania, $0.07 in Uganda and $0.03 cents in Ethiopia.

The $316 million financing of the 100MW Kipeto onshore wind farm in Kenya was another record-breaking deal for the country following the conclusion of the $859 million Lake Turkana wind project financing in 2014.

"By far the largest clean energy project currently under construction is the 310MW Lake Turkana wind farm, which is expected to come online in 2018. Several other wind projects are in early planning stages. There are also a handful of large solar projects. Once built, these projects will be among the largest PV plants in sub-Saharan Africa," the report says.

Off-grid electrification

Ghana, Senegal and Uganda together attracted a combined estimated $160 million in investment for 110MW of solar PV projects. This marked a remarkable step up for the region, considering just 12MW of solar PV secured financing in 2014 and 56MW in 2013. This acceleration is set to continue in 2016, with 145MW of solar PV already tracked by Bloomberg New Energy Finance.

In the geothermal sector, Ethiopia's $100 million financing of the first phase of Reykjavik geothermal Corbetti power plant boosted the investments last year, with deals exceeding $95 million recorded in four other countries including Kenya.

While the overall trend appears positive, some countries have not reviewed their targets. For instance, Tanzania only plans to install 100MW of solar, 200MW of geothermal and 200MW of onshore wind by 2025 against a complete power-generating matrix of 10.7GW.

"Most new installations in Tanzania will be gas and coal, as the government aims to cut reliance on the costly emergency diesel-fired power stations. These efforts are starting to bear fruit: by end of 2015, gas capacity topped large hydro for the first time," the report says.